Hundreds of students will get a chance to be coached by some of the best-known names in rugby.
Colonial Group International is sponsoring the Classic Lions at the World Rugby Classic next month and has teamed up with Beyond Rugby to organize a coaching session for 200 school children.
Naz Farrow, Colonial Group International's Chief Operating Officer for Health, said: "We have invited ten schools to each bring 20 students and they will be coached by some of the Classic Lions team.
"Rugby is a great sport. It promotes camaraderie, team work, good ethics and sportsmanship and helps keep people very fit, so we are delighted to be able to host this rugby youth day."
Colonial's Damian Pitcher, Patrick Calow of Beyond Ruby, and Colonial's Fiona Loveland and Jonathan Peacock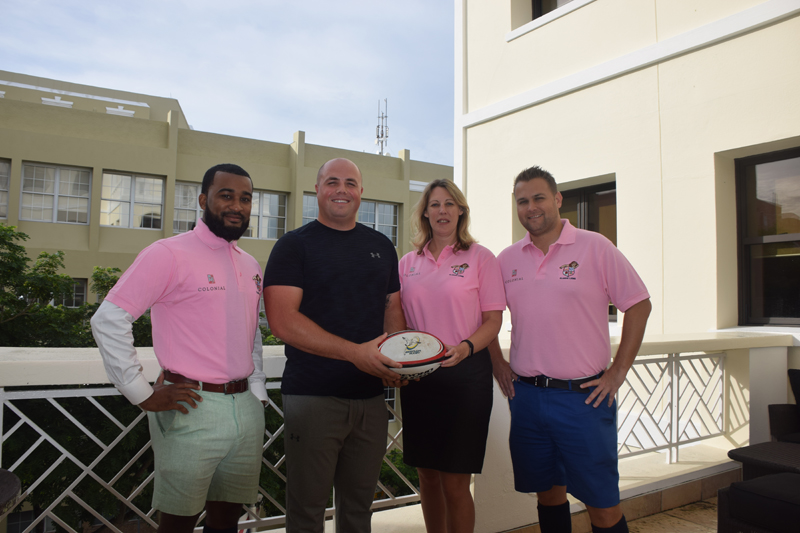 The Classic Lions team includes one of the greats of Scottish rugby, Sean Lamont who was capped 105 times. He was only the second Scottish player to reach the 100-cap milestone and only retired at the end of the last season.
Also in the team are Mike Ross, who was capped 61 time for Ireland, Marcus Horan who won 67 caps for Ireland and Gavin Kerr, who was capped 50 times from Scotland.
"There is a massive amount of experience in the Classic Lions team and the students can only benefit hugely from that experience, which can only help rugby in Bermuda," added Ms Farrow.
"It is the first time we have had an opportunity to sponsor a team at the World Rugby Classic and we are really looking forward to a great competition and obviously the Lions are going to win!"
Patrick Calow, of Beyond Rugby, said training with some of the best players in world rugby could only help the development of young players in Bermuda.
"Rugby continues to grow on the Island and something like this can only further help its development. We are enormously grateful to Colonial for making this happen."
The ten schools are: Dellwood; Whitney, T N Tatem; Sandys, Saltus, Warwick, BHS, Somersfield, MSA and Clearwater.
The rugby youth day will take place from 10am to noon on Wednesday, November 8, at the National Sports Centre.

Read More About