Head Coach Richard Cumbers has named a strong women's lineup for Rugby Americas North [RAN] 7's tournament, which will take place in Mexico City from November 25 – 26.
The Bermuda National Womens Sevens team has been competing in the RAN tournament for five years and will be looking to continue improving on their positioning within the tournament and region.
Coach Cumbers said, "Our participation in RAN last year gave us some lessons to build on. Since then we have been training with the guys from Avatus Rugby as well as doing more work on our strength and conditioning. This has helped to show us where we can improve and be more competitive."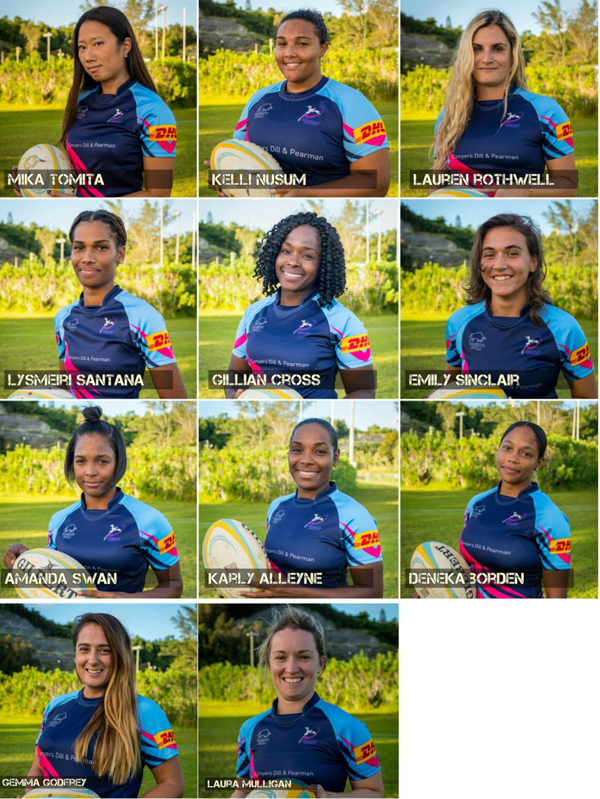 Whilst the Bermuda team has remained fairly steady, they have called on the skills BRFU Player of the Year and local Teachers play Emily Sinclair to help bolster their chances.
Head Coach Richard Cumbers said, "The women's contact team has been established for about five years now and during that time the team has grown from strength to strength.
"Similar to the men's team we were able to foster and develop new talent in the women's sevens program. With such a small, but growing, program in Bermuda the ladies travelled to the Boston 7's to compete and they ended up placing third which was a great achievement for us."
A lot of effort has gone into the high school rugby program and now the Bermuda Women's team are starting to reap the benefits of having such a program in place.
BRFU President Sean Field Lament said, "Three of our recent Youth Commonwealth Under 18 team [Lysmerie Santana, Emily Sinclair and Cerise Woodley] have progressed to our National team which shows the support and investment in our women's youth programs by the Bermuda Olympic Association and the support of our sponsors are paying dividends . I wish both the men's and women's teams the best of luck in the tournament this weekend."
Bermuda will face tough competition in their round robin tournament, but they will have all to play for this year as the winners will qualify for the Hong Kong Sevens and The Gold Coast 2018 Commonwealth Games.
Additionally the top four teams will go through to the Central American and Caribbean Sports Organization [CASCO] Games.
Games will be streamed live on RAN's YouTube channel
Team members are Mika Tomita [Captain], Kelli Nusum, Lauren Rothwell, Lysmeiri Santana, Gillian Cross, Cerise Woodley, Emily Sinclair, Amanda Swan, Karly Alleyne, Deneka Borden, Gemma Godfrey and Laura Mulligan.
Head Coach Richard Cumbers and Physio Bruno Teixeira

Read More About