Carole Holding has once again opened a pop-up shop in the Washington Mall for the holiday season, offering an array of gourmet gift baskets, jams, and rum cakes until Christmas Eve at 4.00pm
A spokesperson said, "Don't miss the opportunity to go visit the Carole Holding pop-up shop, located in the Washington Mall. The shop is filled with an array of Gourmet gift baskets some ready-made or select from her display of product available.
"Carole will design a basket especially for you. In addition, Carole's Bacardi rum cakes may be purchased in four different flavours.
"The cakes made to Carole's recipe include the finest fresh ingredients – fresh eggs, butter, Hershey chocolate, strawberries and pecan nuts, and of course different Bacardi Rums. Grab a jar of her Bermuda Onion marmalade, Carole's Sweet Ginger Jam with Bacardi rum, or Strawberry and Champagne jam for your stocking stuffers.
"Did you know Carole is a professional chef by trade, having schooled in the UK many years ago. The art began as a hobby for which she is now know island-wide. Open until Christmas Eve at 4.00pm."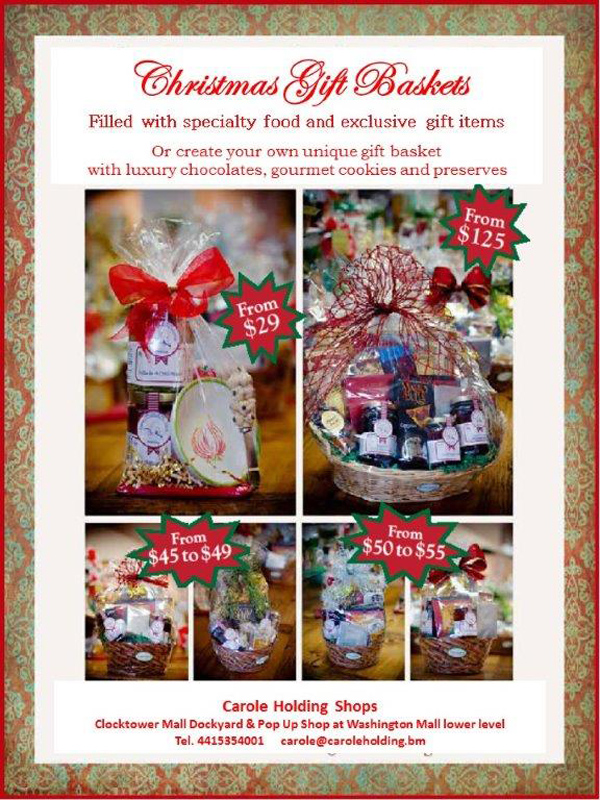 Read More About