[Christmas message from Premier David Burt]
There is an African proverb that says, "If you want to go fast, go alone. If you want to go far, go together."
As I reflect on those words during this holiday season, I have to pause and acknowledge the significant contribution that my family has played in my life.
I must recognize the value of the small, but fundamental lessons that I learned as a child, through our family's traditions.
While having to sit through dinner before we were allowed to open our presents helped to teach us patience and we learned to appreciate what we were given. I watched as my mother and father welcomed people into our home during the holiday season, that raised my awareness of reaching out to others less fortunate, and the concept of togetherness.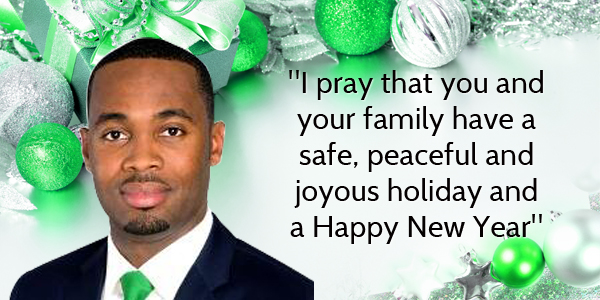 I learned the value of sharing, and that wherever I was able, I should do my part in helping to bring joy to another person's life.
So at a time when most people are racing around buying presents, decorating their homes and preparing a wonderful meal, I encourage you to extend an invitation to someone who will be spending the holidays alone.
Many in our community have lost a loved one this year, including my own family. I encourage you to remember families who may be grieving and need a little extra support this Christmas.
Take a pot of soup and visit someone that may be ill, buy a bag of groceries for a family that may be struggling this season…reach out and spend some time with a neighbor who may be alone. Every gesture can go a long way in building a community that truly understands the value of togetherness.
As I pass on these values to my children, and spend the holidays enjoying our family, I pray that you and your family have a safe, peaceful and joyous holiday and a Happy New Year.

Read More About