Planning Factory Bermuda [PFB] has donated almost $1,000 to the Bermuda Diabetes Association [BDA], raised during the Grand Opening of St. George Skates on November at Somers Garden in St. George.
The family and community friendly event, back for its second year with the help of Presenting Sponsors, RUBiS and Bermuda Gas, and also linked up with PFB to support this cause. PFB donated $5 per skater for every person who skated during the Grand Opening weekend. The money raised will go toward the important services provided by the BDA and raising awareness of healthy lifestyles in Bermuda.
Cher Przelomski of the Planning Factory and Sara McKittrick, the diabetes educator at the Bermuda Diabetes Association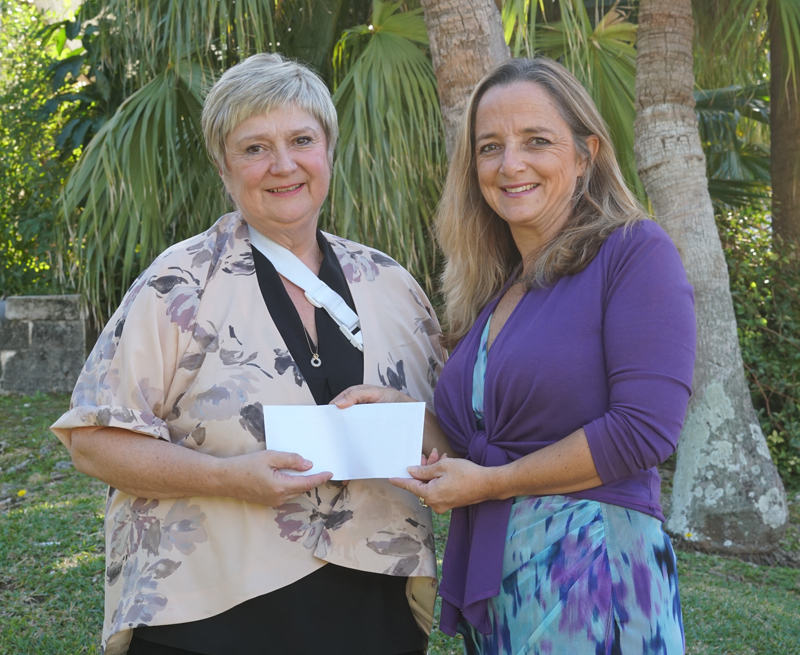 Sara McKittrick, Diabetes Educator at the BDA said: "The Bermuda Diabetes Association is very grateful to have been a part of the St. George Skates experience this year. It is a wonderful opportunity to share the fun and excitement of skating and the benefit to all of physical activity.
"We are very thankful to the Planning Factory and RUBiS for selecting us and look forward to seeing the community take advantage of the opportunity over the holiday season to get skating and get fit.
"Along with donations already received from Grand Opening weekend, St. George Skates has generously allowed The Bermuda Diabetes Association to continue to accept donations throughout the season, so look for our donation bucket when you get your skates on."
Cher Przelomski, of PFB, said: "We are very pleased that we are able to help to promote the Bermuda Diabetes Association's mission to get moving for better health through St. George Skates. We also want to thank the community for coming out for the Grand Opening and helping us raise the money for BDA. We hope that people will continue to come out and get moving this holiday season."
Tickets can be purchased online at PTIX.bm, however walk-ins on site are welcome. Dates, special events and hours of operation are posted on PTIX.bm as well as at the entrance of the rink at Somers Garden. St. George Skates runs until January 28.
For more information, visit sgs.planningfactory.com.

Read More About
Category: All