[Updated with video] As part of their Corange Science 2018 Public Forum, the Bermuda College will host a lecture on "Saving Breasts and Surviving Breast Cancer" at 6.30pm this evening [Jan 31]. Admission is free, and for those who cannot make it, Bernews will be live streaming it online.
"Breast cancer is the most common cancer in women and the leading cause of death by cancer in Bermuda. What if breast cancer is diagnosed? What can increase the odds of survival?" the event poster asks.
Update: 8.38pm: The lecture has concluded, and the 2-hour live video replay is below
The lecture will be by Dr. Lynette Gibson; she holds a Ph.D in Nursing Science, and has published articles in peer-reviewed journals, and presented her research in Canada, Puerto Rico, the U.S. Virgin Islands and the United States.
Dr. Gibson is the recipient of the American Association of College of Nursing DAISY Faculty Award for Excellence in Research, and the Susan Eison Spirit Award for long-time service to the American Cancer Society in the Upstate of South Carolina.
In 2015, she was selected as one of 100 South Carolina nurses to receive the Palmetto Gold Award for Excellence in Nursing Practice and Commitment to the Nursing profession.
"Dr. Gibson is passionate about conducting research on health equity issues, breast cancer survivorship, and the use of culturally appropriate interventions to promote early detection of breast cancer. She attributes much of her research interests to her mother, Olive Richardson, who was a nine-year breast cancer survivor," the College notes.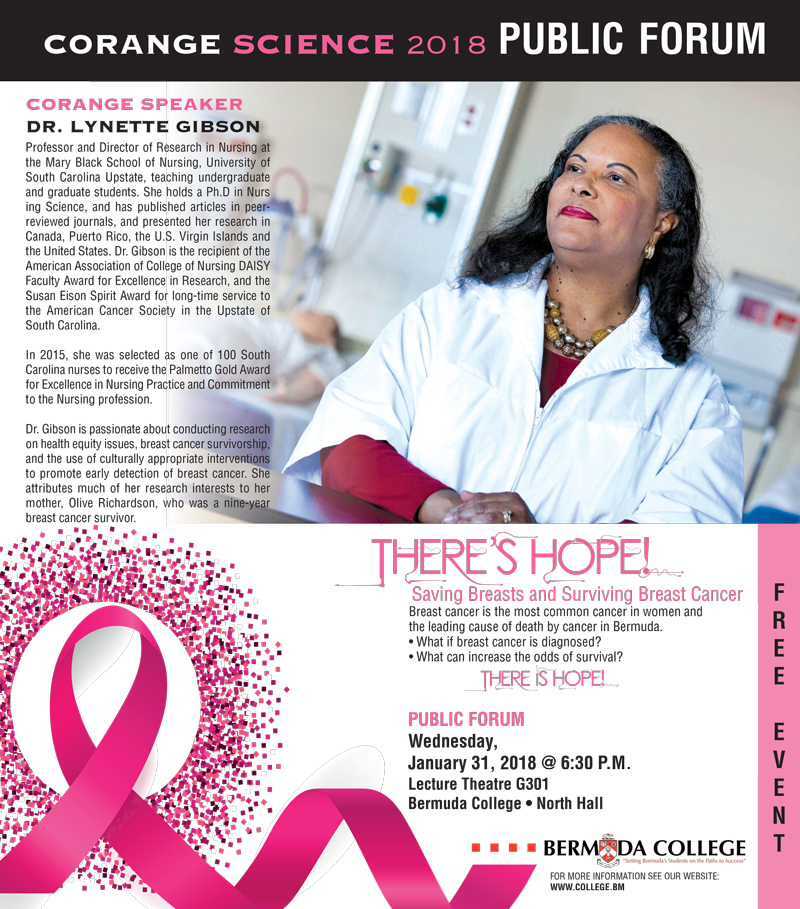 Read More About