The Phoenix Stores and Argus Group today announced their partnership to launch the 'On Call Express Blood Glucose Monitoring System' to assist those living with Diabetes in Bermuda.
Sian Bowen, Chief Pharmacist at The Phoenix Stores, says; "Diabetes now affects more than 300 million people globally and is responsible for one death every six seconds or approximately 4.8 million deaths per year. Bermuda has a diabetes rate of 14 percent – nearly double the global average – which translates to about 9,000 persons who require treatment on the island.
"Looking to reduce the burden of diabetic healthcare on customers, The Phoenix Stores sourced this affordably priced glucometer which is as efficient if not better than some of the more popular brands on the island and can sell the devices and accessories at a fraction of the standard costs," the company said.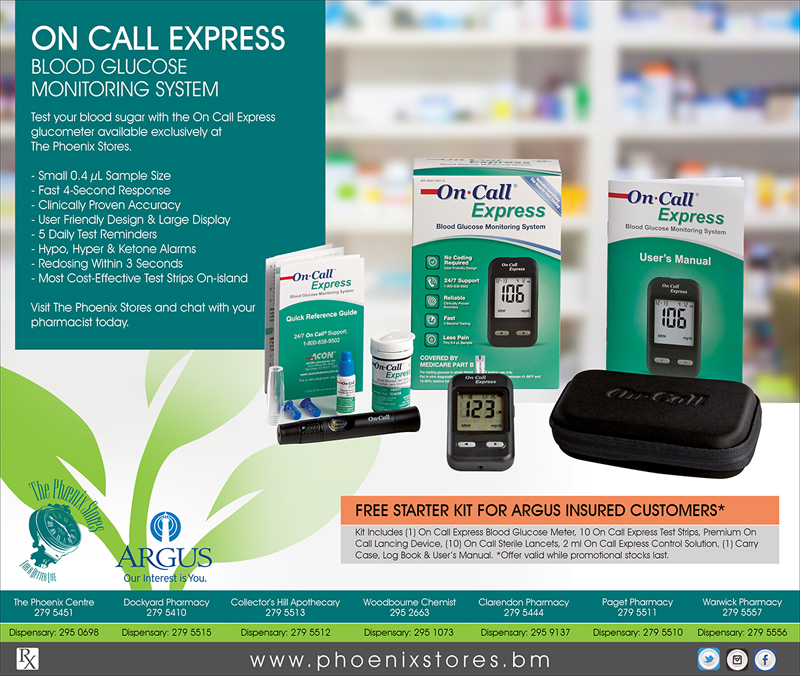 "As a bonus, The Argus Group has come on board to further reduce costs to its insureds who may require the use of a glucometer. During February, Argus insured customers can receive a free On Call Express Starter Kit which includes the On Call Express Blood Glucose Meter, ten test strips, a premium lancing device, ten sterile lancets and control solution all housed in a carry case."
Michelle Jackson, Executive Vice President – Group Insurance at the Argus Group said; "The launch of On Call Express aligns perfectly with our strategy to provide access to programmes and initiatives to reduce and reverse the effects of Type 2 Diabetes in Bermuda.
"In this instance, The Argus Group is pleased to absorb costs associated with the purchase of this glucometer by its insureds during the month of February. Facilitating access to regular blood glucose monitoring further supports our existing Diabetes Reversal Programme with Dr. David Cavan and Dr. Stanley James – a programme which focuses on those with Type 2 Diabetes and assists in encouraging healthier food choices and increased physical activity. Together, the goal is to help lower blood glucose levels."
The company added, "In addition to providing the most cost-effective test strips on-island, the On Call Express Blood Glucose Monitoring System works with a small sample size, delivers a fast four-second result and boasts a user-friendly design with a large display.
"Argus insureds with diabetes looking to obtain a free On Call Express Starter Kit merely need to visit any of The Phoenix Stores and speak with a pharmacist. One On Call Express Starter Kit per person is available while promotional stocks last."

Read More About