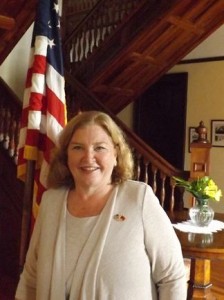 Administrative professionals often work quietly behind-the-scenes to ensure their company is running as smoothly and efficiently as possible, but on April 25 they'll have a chance to shine on a public platform on Administrative Professionals Day.
Administrative Excellence Bermuda, an organization that seeks to bring together industry professionals from across the island to help them reach new levels of professional excellence, announced it will host the 3rd Annual Succeeding Professionally, Growing Personally Conference at the Fairmont Southampton.
This year's Conference theme is Re-Skilling: New Learning Methodologies, Practices and Strategies for Administrative Professional Success.
According to one of the conference organizers William Spriggs, the career development opportunity taking place at the Fairmont Southampton, will be "a huge day of cutting-edge education and life-changing motivation.
"We are committed to providing high quality administrative skills development experiences and networking opportunities for administrators island-wide – our 3rd Annual Administrative Conference is a great way for administrators to learn new skills, stay abreast of industry trends, make new contacts and top up their motivation to continue to develop personally and professionally," Mr. Spriggs explained.
The event originally started as a way of honouring four administrators who passed the September 2016 Certified Administrative Professional [CAP] exam. The Administrative Excellence Bermuda team wanted recognize them by booking out a small board room and sending email invitations to the awardees' family, friends and colleagues, however, the invitation list continued to grow and grow.
The organization responded to the high demand by hosting a special event for administrators island-wide and included the CAP awards ceremony as an accompaniment to that.
The 2018 Conference will feature a dynamic line-up of local presenters, including Dr. Crystal Clay, CEO of Olive Branch Consulting, Denise Riviere, CEO of OD Solutions International, Alex Dill, Certified International Health Coach and this year's special keynote speaker will be Mary Ellen Koenig [pictured], US Consul General to Bermuda.
Mrs. Koenig's keynote, titled Defining Success, will touch on why re-skilling is important to the administrative professional, the importance of setting goals and achieving them and developing a mindset for continuous self-examination.
Velda Franco, CAP, Bermuda IAAP Local Area Network Chairperson, stated, "I've attended every year and the Conferences have always impressed; in addition to fantastic presentations, learning activities and great networking, I've had an opportunity to take a leadership role as Bermuda's liaison to develop the relationship with the International Association of Administrative Professionals and provide ongoing educational opportunities to Administrators".
In addition to the knowledge development presentations and skill enhancement group activities, the energy-packed administrative learning experience will also showcase 5 newly Certified Administrative Professionals. These administrators passed the rigorous CAP exam offered by the IAAP last September, after six months of focused study.
New additions to this year's agenda will be DJ TwinStarr to mix things up music wise and liven up day-long networking opportunities as well as an end of day Admin Jeopardy Game Show done Admin Excellences' own unique way.
A continental breakfast, buffet lunch and a range of corporate gifts provided by many of the attendees' generous companies make the day a most special one for attending administrative professionals.
For more information and to register today for the 3rd Annual Succeeding Professionally, Growing Personally Administrative Development Conference visit apdbermuda.com or email apdbda@gmail.com.
Read More About