[Updated with video] For the third year in a row Paul Goodison of the U.K. has won the world championship of the International Moth Class Association. Goodison, 40, achieved the feat today [April 1] when the final day of racing at the Bacardi Moth World Championship in Bermuda was canceled due to lack of wind.
Goodison previously won the Moth Worlds in Japan in 2016 and last year in Italy. He became the second skipper in the 77-year history of the regatta to win three consecutive titles, matching fellow British sailor David Izatt from 1979 to 1981.
"Last year's win was very, very special because it came straight after the Americas Cup and it was against all the guys I'd been working with and sailing against," said Goodison, who was a member of Artemis Racing during the 2017 America's Cup in Bermuda.
Paul Goodison [center] holds the Moth World Championship trophy as Francesco Bruni [left] and Rome Kirby prepare to shower him in champagne at the Bacardi Moth World Championship awards ceremony.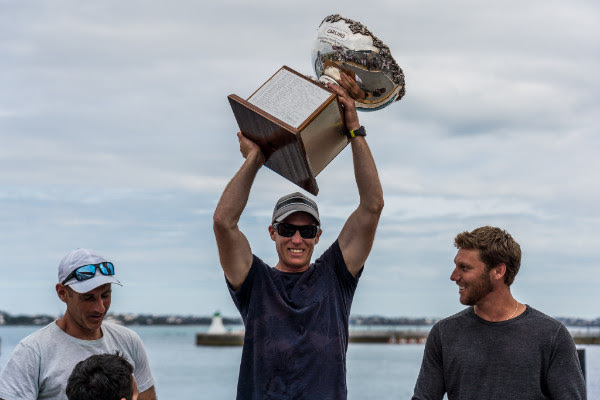 "This one feels amazing as well since it's in Bermuda where I spent so much time practicing for the last Cup," Goodison continued. "We had some amazing conditions this week. Unfortunately, they weren't the best conditions the last few days with the light winds, but this championship feels very special because it is the third in a row."
Along with the three Moth world championships Goodison has also won an Olympic Gold medal in 2008 in the Laser class and the Laser World Championship in 2009.
The weather at this regatta frustrated everyone from competitors to observers. The conditions started as fresh-to-frightening with winds of 20 to 25 knots. By the end of the week the weather pendulum swung to fair-to-fine as warm temperatures and sunny skies were abundant but not the breeze. Goodison played through it all.
"We all came here knowing some days would be bad and some days worse. For me the finest day was the first day of the Bermuda Nationals," said Goodison in reference to racing on March 23. "The first day of the worlds was very challenging, very windy. The next day we had four races in perfect Moth sailing weather. It's been frustrating not to do more racing, but the racing we've done has been excellent."
Paul Goodison [bow 01], Francesco Bruni [bow 04] and Victor Diaz de Leon [bow 43] work off the start line in a light-air race on the final day of the Bacardi Moth World Championship. The race would later be abandoned when the wind died away.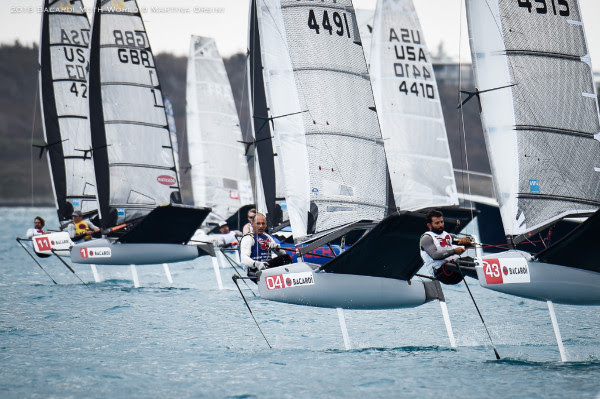 Francesco Bruni of Italy, a teammate of Goodison's with Artemis Racing, placed second overall and Rome Kirby of the U.S., who sailed with Oracle Team USA last year in the America's Cup, finished third.
"It's just a dream to finish second," said Bruni, who'll turn 45 on April 10. "The thing that stands out most for me is we did six races in very strong wind. I was expecting to have to defend in those conditions and attack in the lighter winds. To finish second with four third-place finishes in the second day of racing is a huge achievement and very, very good for my spirit."
For Kirby, third-place was a just result. "I was just trying to keep the boat together on that breezy first day," said the 28-year-old. "I just wanted to stay consistent. My finishes were all second through seventh, so I had good consistency. It's unfortunate we didn't have more racing, but I'll take third place."
Andreas John won the Masters' Division. The 57-year-old skipper from Blankeneser Segelclub on the Elbe River in Blankenese, Germany, finished 24th overall with 111 points. Among the six Masters' entrants he finished with the low score of 7 points, good for a 4-point advantage over fellow German Kai Adolph.
Bermudian Benn Smith won the Youth Division. Representing the host Royal Bermuda Yacht Club, the 18-year-old Smith finished 31st overall with 151 points. As the lone entrant in the Youth Division he finished with 4 points.
"It's cool, it's special," Smith said of his achievement. "I sail the Laser a lot and you see the top guys in the Moth have sailed the Laser. Bruni was in the Laser and Goodison won a gold medal. They've taken to the Moth really easily and I'd like to be like them someday."
The 78th Moth World Championship is scheduled Nov. 19-29, 2018 and will be hosted by Mounts Bay Sailing Club on the Swan River in Perth, Western Australia. The Moth class is sponsored by Italian sportswear manufacturer Slam, which was also the official Clothing Sponsor of the world championship.
Bacardi Moth World Championship Bermuda Final Standings [After 6 races, with one discard]
1. Paul Goodison [GBR] 1-1-[DNC-45]-1-2-1 – 6 points
2. Francesco Bruni [ITA] [13]-7-3-3-3-3 – 19
3. Rome Kirby [USA] [7]-2-6-5-5-5 – 23
4. Brad Funk [USA] 3-3-[7]-7-6-6 – 25
5. Victor Diaz de Leon [USA] 4-6-5-8-9-[10] – 32
6. Ted Hackney [AUS] 14-[15]-2-6-11-2 – 35
7. Benoit Marie [FRA] 8-4-9-10-8-[11] – 39
8. Dan Ward [GBR] 6-5-[12]-11-12-9 – 43
9. Ben Paton [GBR] [45-DNF]-24-8-9-4-7 – 52
10. Iain Jensen [AUS] 5-[45-DNC]-1-2-1-45 DNF – 54
- Photos courtesy of ©Beau Outteridge and ©Martina.

Read More About