The Ministry of National Security in partnership with members of Bermuda's interfaith community and helping agencies will mark May 9, 2018 as a National Day of Peace.
"The aim of the event is to bring the community together to remember those who have been lost through tragic circumstances, and to engage in supportive and healing activities," the Ministry said.
"To highlight the occasion a series of events have been planned for May 9th, which will take place at the National Sports Centre starting at 5.00 p.m. The public can expect to see inspirational musical and dance performances as well as activities catering to young people.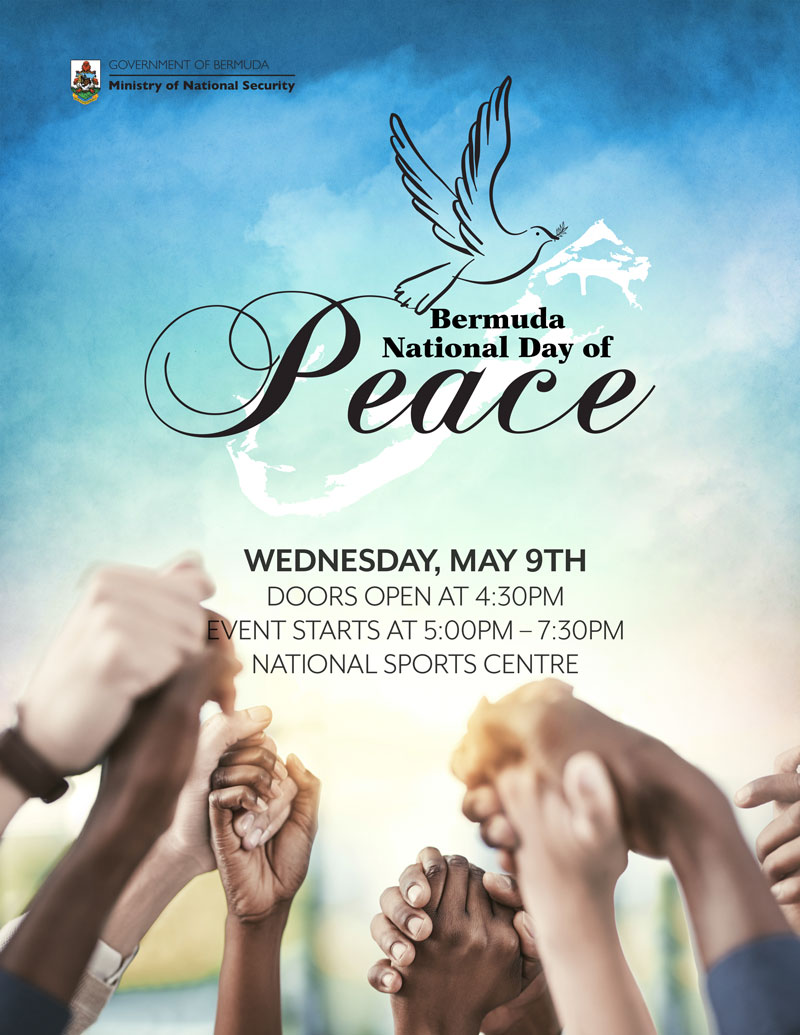 Minister of National Security, Wayne Caines said, "We have sought to introduce creative and innovative initiatives to meet the needs of our people. The origins of the National Day of Peace stemmed from wanting to create an opportunity to bring our community together to address the challenges of anti-social behavior and violence.
"However, as we spoke more with our partners in the helping agencies and faith community we began to realize that the scope of this event needed to evolve, to embrace those in our population who are experiencing deep hurt, loss and trauma due to other reasons.
"We believed it was important to offer an opportunity where our community could come together in a healing environment.
"So, our vision for the National Day of Peace is to have an event which embraces all in our community and fosters and atmosphere of unity. We are hoping for the public's participation at this event."
Organisers of the event include Pastor Leroy Bean, Bishop Nicholas Dill, Bishop Vernon Lambe, Bishop Lynn Landy, Apostle Jimmie Denwiddle, Pastor Kimmie Mello and Pastor Gladwin Thompson.
For more information about the National Day of Peace, the public can email nationalsecurity@gov.bm.
Read More About