The Ministry of National Security is advising that as part of a partnership with the Bermuda Counsellors Association [BCA], they will host a two part lecture series, which will focus on the impact of community violence, trauma and healing from trauma.
"The presentations – which take place April 20, from 9.30am – 12.30pm at O'Hara House [XL Catlin] and April 21, from 6.00pm – 8.30pm at the NSC Pavilion – will provide a full review of adverse childhood experiences and community traumas, and the impact of such exposure on young people," the Ministry said.
"The Ministry's Gang Reduction Coordinator, Pastor Leroy Bean will address those in attendance at the discussion sessions, which will zero in on the effects of trauma on the person, the role of substance abuse, generational trauma and the traumatized community."
Minister Wayne Caines has previously stated, that, "it's this Government's hope to work in partnership with all aspects of the community to address multi-generational unaddressed trauma and to put long term solutions in place.
"We are determined to change the narrative to reflect an approach that does not solely target the proven risk population but develops a cultural shift that supports all of the young men and women in Bermuda".
The Ministry of National Security and the BCA encourages all interested persons who wish to learn more to attend the workshops.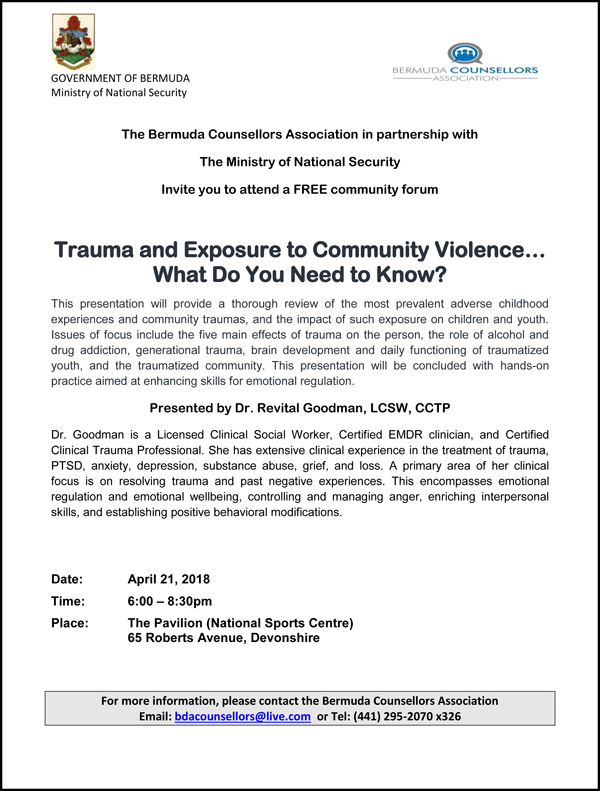 Read More About
Category: All