Skyport has launched a brand new website designed and developed by a Bermudian, with a primary focus on functionality and visual appeal.
The new website, which can be found at – www.bermudaairport.com – was designed and developed by Sebastian Matcham of Subtropik.
"The new site was created with the end user in mind. The site is user-friendly, functional and highly visual. A key feature of the website is the flight search box, which is located on the homepage," Skyport said.
"When users go to the site to look for flight information, they have the option to type in the flight number, city or airline and are immediately directed to the relevant page. The new site is clean, simple, visually appealing and easy to use.
Mikaela Pearman, Marketing & Communications Officer, Skyport, says: "It was important for us to work with a Bermudian team to design and develop the website.
"We found Subtropik to be the best choice for our needs and are thrilled with the final product – an easy to use, beautiful website that will meet the needs of the traveling public.
"It was equally important to work with the best Bermudian photographers to convey the visual aspects of the site. We hope the public finds the site easy to navigate, stunning and most importantly, informational."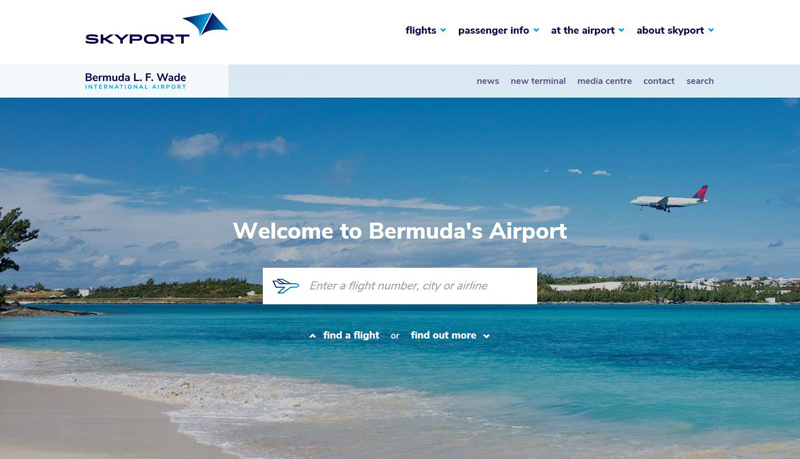 Mr. Matcham says: "Being a relatively new contender in the local design and web development industry, the chance to take on a high-profile project like this was super exciting.
"An airport is something which, in its every aspect, must be well-designed – it needs to operate smoothly, efficiently and securely and must be easy to navigate. It should also effectively communicate aesthetic aspects unique to the destination or specific project. Those are all the primary considerations that underpin every web project I undertake, so it felt like a natural fit.
"I'm grateful for the opportunity to produce this website and I thank Skyport for making the decision to hire a Bermudian entrepreneur for this project."
Skyport added, "Just as important as the layout and function, was the look and feel of the site. Skyport hired local photographers to capture images that best represent Bermuda and the LF Wade International Airport.
"Stunning photography by Nhuri Bashir, John Singleton, Kyle James and Alexander Masters, is featured heavily throughout the website and each image was curated specifically for the various pages. The photography includes both aerial and on the ground images.
"In addition to the site's ease of use, users will also find passenger and airline information, material about Skyport, and of course, updates on the airport redevelopment project. There is also a media section with the latest Skyport news and all the episodes from our bi-monthly video series, "Taking Off", to keep the public informed."

Read More About
Category: All, Business, News, technology, Videos