The Ministry of Community and Cultural Affairs has released details for the upcoming Heritage Month events, with a theme this year of 'What We Share.'
The Government website said, "The Bermudian experience is not universal, but what we share is far more important than what divides us. On a 21 square mile island, we are united in family bonds that extend from St. George's to Sandys, and friendships between them that span generations. "
This year's Heritage Month activities include the Seniors Craft Show, Contemporary Art Experience, Harbour Nights, Grand Opening of The Family Centre Sunshine League House, Haunted History Walking Tour, Movie Lounge, BSoA Spring Member's Show Opening, XL Catlin End to End, Derby for a Cure Fundraiser, Nadanja's Pre Mother's Day Show, and Swan's Running Club Legends Race Series: "Sir" Stanley Burgess 5K Race.
Also included are the Cybertips Digital Citizenship Conference, Senior Mondays at Masterworks, Bermudian Literature Class with Dr. Angela Barry, Bermuda Biennial 2018 Exhibition Opening, The 6th Annual Kaleidoscopic Jamboree, Wild Edible Herbal Walk, Global African Inventions by Mwalimu Melodye Micere Van Putten, Trust Talks: Old Garden Roses in Bermuda, and The Bermuda National Gallery Art of Music Series: The Bermuda Philharmonic String Orchestra.
Additional events include the Haunted History Walking Tour, Relay for Life, The Homes of Hamilton Harbour Boat Tour, Flag Invasion, The Chewstick Foundation's Brunch & Cultural Awards, Wild Edible Herbal Tasters Event, Book Signing and Discussion with Darnell Moore, Haunted History Walking Tour, Sinclair Packwood Memorial Cycle Race, Bermuda Day Half Marathon Derby, Heritage Junior Classic Race, Bermuda Day Parade, Bermuda Guitar Festival: Guitar and Violin Duo, Jazz Soloist, and Bacardi Presents: A Premier Night Club Experience.
Other events will be The Price is Right Charity Event: A Fourways Brunch Entertainment Experience, Wild Edible Herbal Walk, Bermuda Guitar Festival: Student Gala Concert, Bermuda Piano Festival: Giorgi Mikadze Trio, Department of Community and Cultural Affairs Film Launch, International Contemporary Art Design Lecture Series: International Architect Alban Bassuet, Bermuda Piano Festival: Alex Tuchman, Bermuda Traditional Hat Making Demonstration with Ronnie Chameau, Bermuda Piano Festival: Tribute to Leonard Bernstein, and Pechakucha.
The Heritage Month 2018 activity schedule follows below [PDF here]: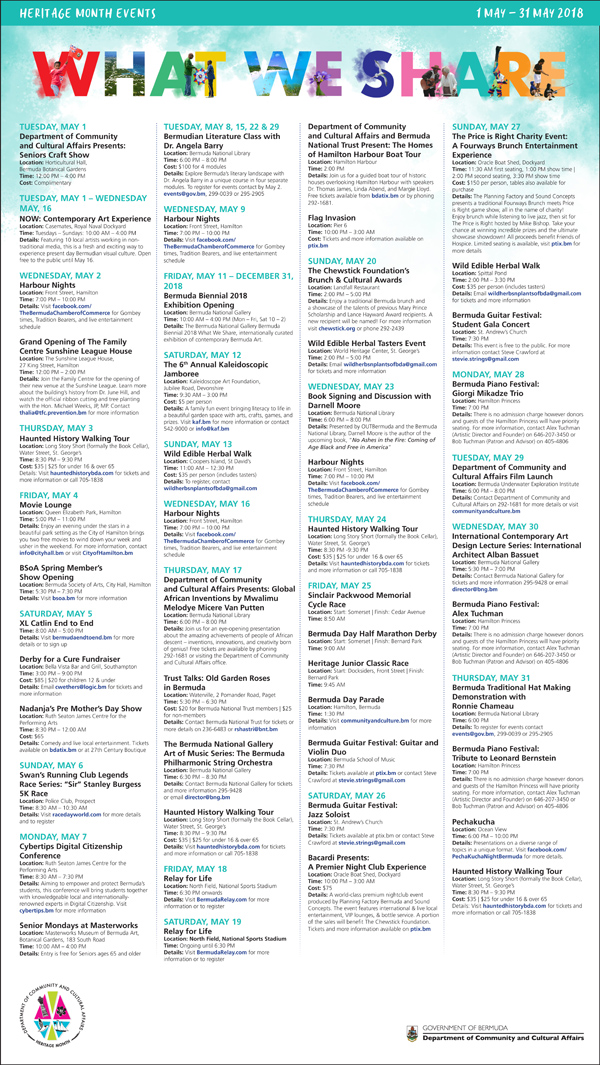 Read More About
Category: All, Entertainment