KPMG donated 30 re-conditioned laptops to Dellwood Middle School saying they "aim to help students unlock their potential and inspire innovative teaching."
Minister of Education and Workforce Development Diallo Rabain, was on hand for the presentation and expressed his appreciation for KPMG's continued commitment to Dellwood, saying, "This investment in Dellwood's ICT infrastructure will assist students with their educational needs and teachers in their planning and delivery of the curriculum.
 Tavia Paynter [KPMG] Chanz Godwin [Deputy Head Girl], Camajé Easton-Smith [Head Boy], Adrian Trott [Deputy Head Boy]. Back row [Left-to-right]: Judah Smith-Dyer, Shaunyae Hassell, Milai Perott, Naji Bean, Jayden Williams-Woodley, Israel Furqan. Missing: Nanami Ingram [Head Girl]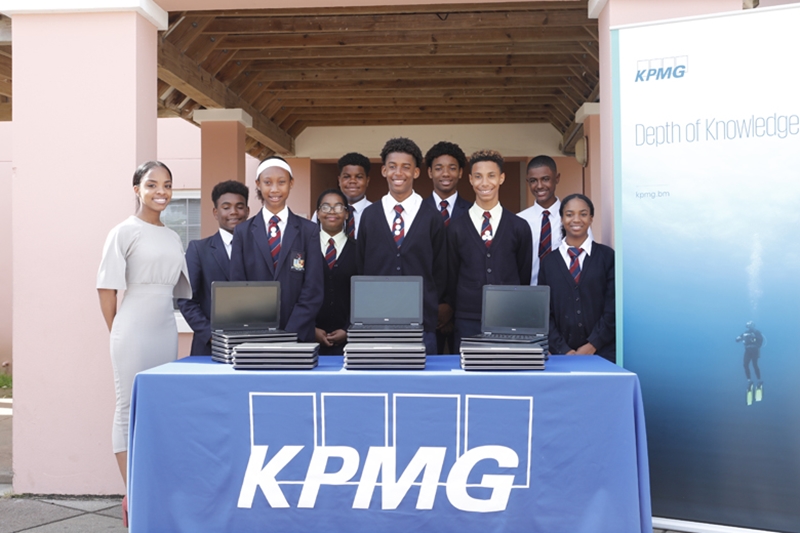 "The Ministry is grateful for KPMG's continued investment in Dellwood and their commitment to education and youth development in Bermuda.
"In addition to these laptops, KPMG has pledged to install a wireless network infrastructure for the school. Financial support from Bermuda's corporate sector is critical to the success of our students."
Stephen Caton [KPMG], Minister Diallo Rabain, Taiva Paynter [KPMG], Dellwood student leaders, Dellwood Principal Tina Duke and Mike Morrison [KPMG]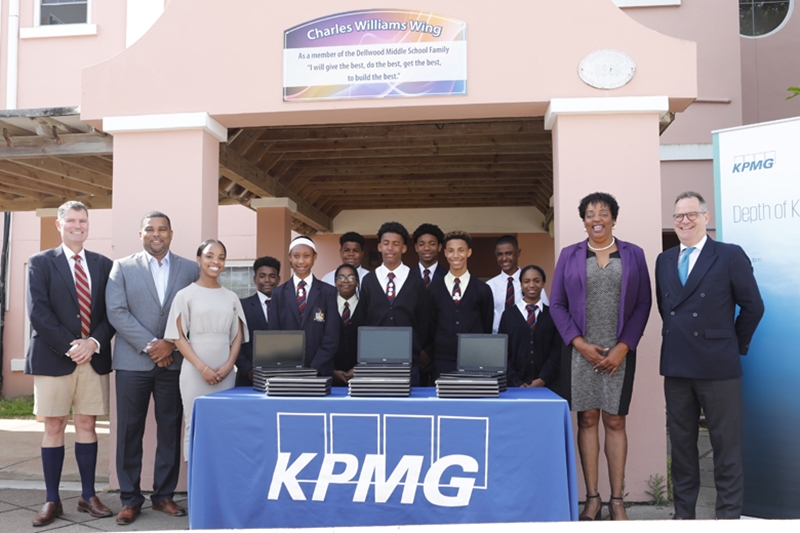 Principal of Dellwood Middle School Tina Duke said, "KPMG has actively supported Dellwood since adopting the school in 2015. This latest donation, along with the upcoming network installation, will greatly enhance the learning experience at Dellwood.
"Thank you KPMG for empowering our student body and faculty and we look forward to working with you on other initiatives in the future."
Dellwood student leaders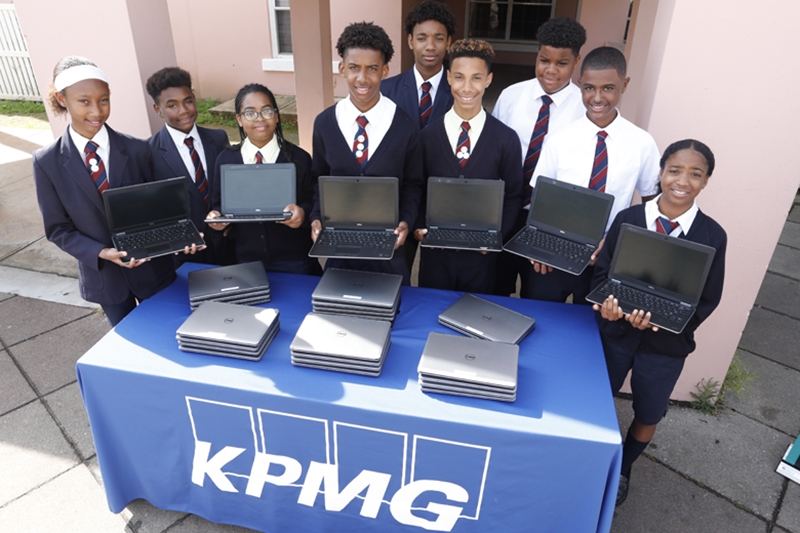 Mike Morrison, Chief Executive Officer of KPMG in Bermuda commented, "We at KPMG our proud of our long-standing partnership with Dellwood.
"We understand and value the benefits of a foundation of education and lifelong learning, and this forms the cornerstone of KPMG's commitment to Corporate Citizenship. Through this donation and ongoing support, we aim to help students unlock their potential and inspire innovative teaching."
Read More About
Category: All, Business, News, technology