The Bermuda Motorcycle Racing Club's 2018 Circuit Racing Championship Series kicked off on Sunday afternoon at the RUBiS Southside Raceway.
Eight youth racers battled it out in the Minibike class throughout the day's three heats. Kymaree Pitt welcomed the first win for the season when his tire reached the finish line just a fraction of a second before competitor Norre Robinson. Aeziah Divine and Jediah Cumbermack welcomed their hard- earned firsts in Heats 2 and 3 respectively when they both secured visible leads over their biggest competitors.
Running alongside the Minibikes was new racer, Jeremiah Samuels, who created a substantial gap ahead of the group in Heat 1. Samuels is currently the first youth racer to make it to the Formula Open class this season.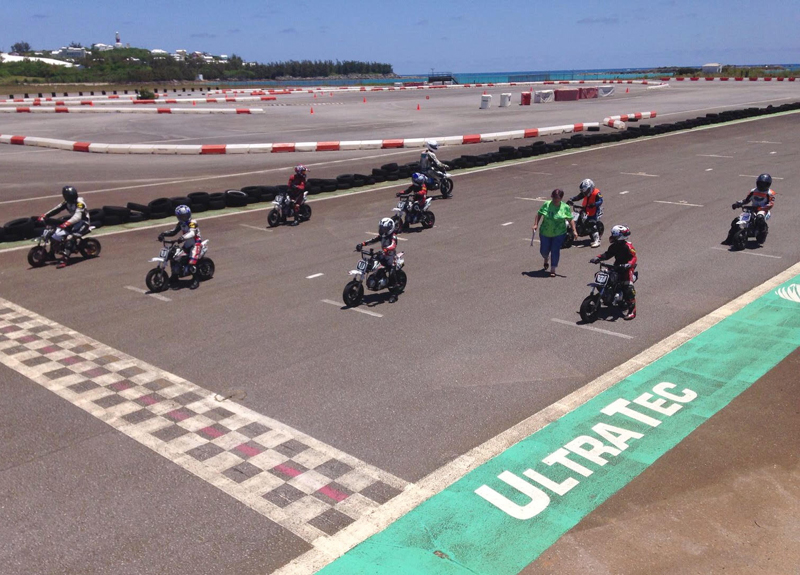 Kenneth DeSilva came out on top, winning two of the three Heats in the Scooter 70 class. DeSilva also stole the overall top finish for the entire scooter class in the first two heats. Ricky Wade took the final first in Scooter 70 where newcomer Blair Jones joined the pair and secured a strong second behind Wade in Heat 3.
Edward Cook made a clean sweep of the Scooter 4T class where he won all three Heats. Jason Pacheco followed close behind with new racer, Dandre Outerbridge, making his season debut.
Full race results are below.
Race Day #1: May 27th
Minibikes: Heat 1
1. Kymaree Pitt
2. Norre Cann
3. Aeziah Divine
4. Jediah Cumbermack
5. Nathaniel Binega-Northcott
6. Ryan Chequer
7. Sheun Simmons
8. Prince Battersbee
Minibikes: Heat 2
1. Aeziah Divine
2. Kymaree Pitt
3. Norre Robinson
4. Jediah Cumbermack
5. Nathaniel Binega-Northcott
6. Ryan Chequer
7. Prince Battersbee
Minibikes: Heat 3
1. Jediah Cumbermack
2. Norre Robinson
3. Kymaree Pitt
4. Aeziah Divine
5. Sheun Simmons
6. Nathaniel Binega-Northcott
7. Ryan Chequer
8. Prince Battersbee DNF
Formula Open: Heat 1
Formula Open: Heat 2
Formula Open: Heat 3
Scooter 70: Heat 1
1. Kenneth DeSilva
2. Ricky Wade
3. Blair Jones
Scooter 70: Heat 2
1. Kenneth DeSilva
2. Ricky Wade
Scooter 70: Heat 3
1. Ricky Wade
2. Blair Jones
Scooter 4T: Heat 1
1. Edward Cook
2. Jason Pacheco
Scooter 4T: Heat 2
1. Edward Cook
2. Jason Pacheco
3. Dandre Outerbridge
Scooter 4T: Heat 3
1. Edward Cook
2. Jason Pacheco
3. Dandre Outerbridge

Read More About