Bermuda's Horseshoe Bay Beach is the third most Instagrammed beach in the world according to TravelSupermarket, with visitors and locals using the #HorseshoeBay hashtag on the social network more than 90,000 times.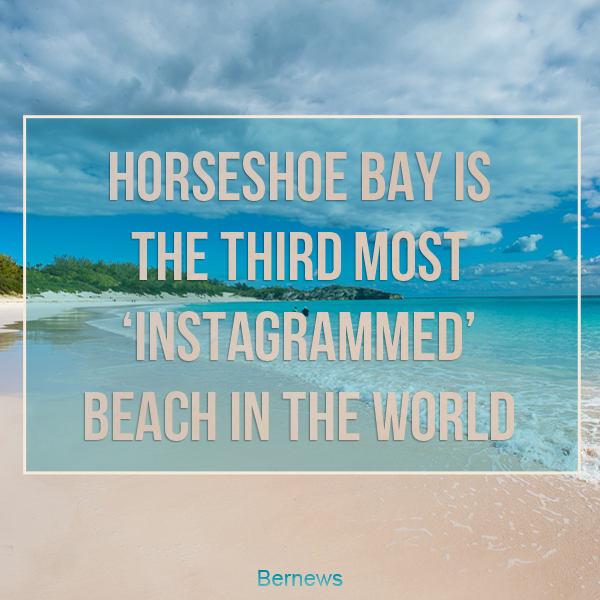 The website said, "Whether you're seeking sunny solitude or heading Down Under to surf the waves, this collection of dreamy ocean landscapes are the most photogenic on the planet. How many of the world's most Instagrammable beaches have you been to?"
"With an average of 80 million photos uploaded every single day, Instagram is one of the most popular online platforms for photo sharing.
"Image hashtags for some of the most picturesque seafronts, such as #bavarobeach and #dreamlandbeach have enabled TravelSupermarket to uncover the most popular beaches for Instagram users. If these photos don't leave you with an incurable case of wanderlust, we don't know what will."
Emma Grimster, spokesperson at TravelSupermarket, said, "With the summer season just around the corner, thousands of holidaymakers are preparing to soak up the sunshine on sandy beaches around the globe, sharing photos of their trip online with their friends and families."
TravelSupermarket's top 25 most Instagrammed beaches around the world:
| | | | | | |
| --- | --- | --- | --- | --- | --- |
| Position | Beach | Location | Hashtag | URL | Number of uses |
| 1 | Whitehaven Beach | Whitsunday Island, Australia | #whitehavenbeach | #whitehavenbeach | 129,585 |
| 2 | Lanikai Beach | Kailua, Hawaii | #lanikaibeach | #lanikaibeach | 117,525 |
| 3 | Horseshoe Bay | Southampton, Bermuda | #horseshoebay | #horseshoebay | 90,404 |
| 4 | Cayo Coco Beach | The Cayos, Cuba | #cayococo | #cayococo | 84,494 |
| 5 | Bavaro Beach | Bavaro, Dominican Republic | #bavarobeach | #bavarobeach | 83,183 |
| 6 | Boulders Beach | Cape Town, South Africa | #bouldersbeach | #bouldersbeach | 77,748 |
| 7 | Bournemouth Beach | Bournemouth, United Kingdom | #bournemouthbeach | #bournemouthbeach | 72,503 |
| 8 | Pink Sands Beach | Harbour Island, Bahamas | #harbourisland | #harbourisland | 71,087 |
| 9 | Ao Nang Beach | Krabi, Thailand | #aonangbeach | #aonangbeach | 60,812 |
| 10 | Playa Paraiso Beach | Tulum, Mexico | #playaparaiso | #playaparaiso | 60,381 |
| 11 | Dreamland Beach | Bukit Peninsula, Bali | #dreamlandbeach | #dreamlandbeach | 57,432 |
| 12 | Grace Bay Beach | Providenciales, Turks and Caicos | #gracebay | #gracebay | 44,585 |
| 13 | Eagle Beach | Palm, Aruba | #eaglebeach | #eaglebeach | 43,438 |
| 14 | Varadero Beach | Varadero, Cuba | #varaderobeach | #varaderobeach | 39,844 |
| 15 | Reynisfjara Beach | Reykjavik, Iceland | #reynisfjara | #reynisfjara | 39,801 |
| 16 | Shoal Bay Beach | St. George, Antigua | #shoalbay | #shoalbay | 38,202 |
| 17 | Flamenco Beach | Culebra | #flamencobeach | #flamencobeach | 35,414 |
| 18 | Navagio Beach | Zakynthos, Greece | #navagiobeach | #navagiobeach | 34,986 |
| 19 | Waipio Valley Beach | Big Island, Hawaii | #waipiovalley | #waipiovalley | 32,620 |
| 20 | Fig Tree Bay Beach | Protaras, Cyprus | #figtreebay | #figtreebay | 29,505 |
| 21 | Playa Norte Beach | Isla Mujeres | #playanorte | #playanorte | 25,995 |
| 22 | Ile aux Cerfs | Trou d'Eau Douce, Mauritius | #ileauxcerfs | #ileauxcerfs | 20,758 |
| 23 | Maya Bay Beach | Koh Phi Phi Leh, Thailand | #mayabaybeach | #mayabaybeach | 20,078 |
| 24 | Trunk Bay Beach | St. John, US Virgin Islands | #trunkbay | #trunkbay | 19,867 |
| 25 | Manly Beach | Sydney, Australia | #manlybeachaustralia | #manlybeachaustralia | 18,500 |

Read More About
Category: All, Entertainment, News, technology