The City of Hamilton advises that there will be traffic restrictions due to the Queen's Birthday Parade in Hamilton on Saturday [June 9].
A spokesperson said, "The City of Hamilton advises the motoring public that the Queen's Birthday Parade will take place in Hamilton on Saturday, June 9th. There will be numerous street closures starting at 6:00am to accommodate the parade.
"Front Street will be closed between Par-la-Ville Road and Court Street with all of the cross streets in between closed from Front to Reid Street. Reid Street will not be closed at any time. The motoring public that might normally access Front Street on a Saturday morning are reminded to make alternate plans and use another route to avoid any inconvenience.
"All City streets included in the closure will re-open by 12:30pm. Buses that normally travel along Front Street will be diverted up Court Street and onto Victoria Street where they will proceed to the Bus Terminal.
"As a result of the road closures there will be no access to or from the Front Street car parks from 6:00am onwards. There will also be no access to Point Pleasant Road/Albuoy's Point by motor vehicle. The appropriate signage and barricades will be in place.
"Also on Saturday, there will be an unrelated traffic disruption on Church Street between Par-la-Ville Road and Wesley Street to accommodate a major crane operation in that area between the hours of 7:00am and 6:00pm. Traffic management will be in place and the motoring public are advised to exercise extreme caution and patience in that area."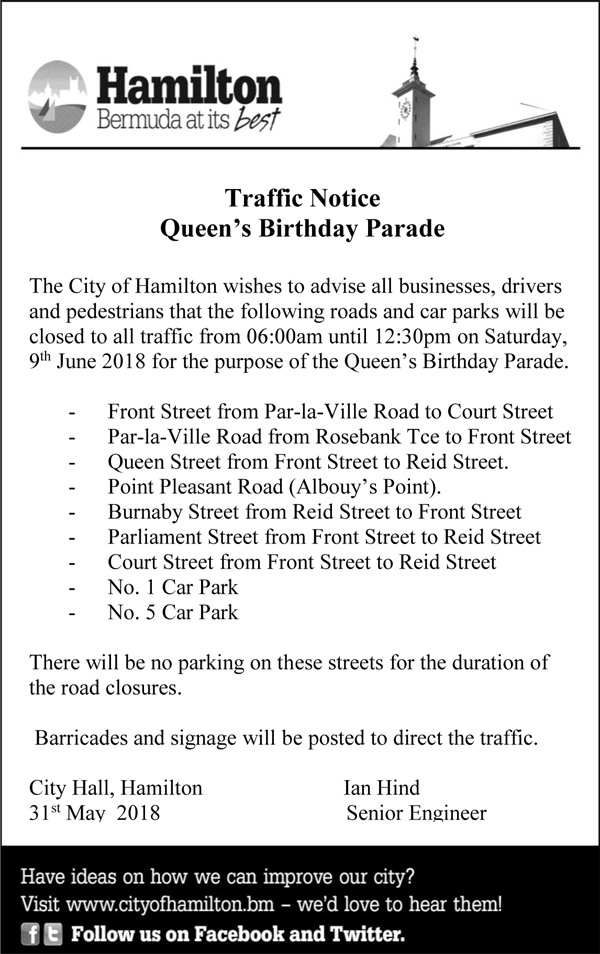 Read More About
Category: All