Two teams of students left Bermuda on Saturday headed for Atlanta and Chicago to experience those insurance
markets through the BFIS 'Intro to Insurance Programme'.
This year's Atlanta students are Walker Campbell [Economics/ William & Mary], Aaron Rego [Economics/ East Anglia], Danielle Wall [Business/ Wilfrid Laurier] and Chelsea Warren [Business/ Alabama A&E]. The students going to Chicago are Khaeljah Burgess [Finance/ Nottingham Trent], Tomisha Goater [Economics/ Florida], Tashae Trott [Psychology/ Nottingham Trent] and Cayla Wade [Insurance & RM/ Georgia State].
 Niambi Landy-Philpott [2017 Atlanta intern], Walker Campbell, Aaron Rego, Chelsea Warren, Khaeljah Burgess, Danielle Wall, Tashae Trott, Tomisha Goater, Cayla Wade, Tracey DeSouza [2017 Chicago intern] and BFIS Chair, Gail Martin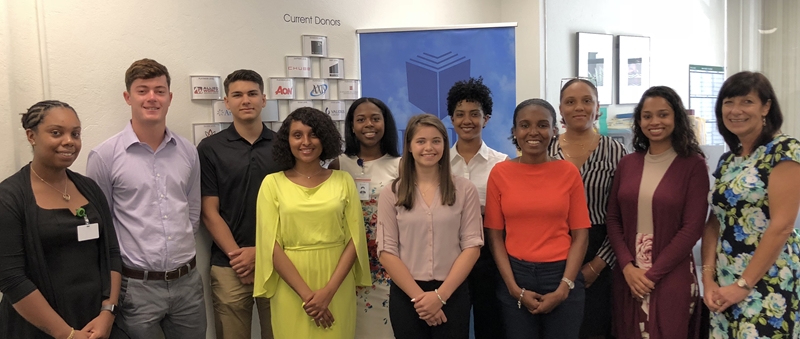 BFIS Chairman Gail Martin, 2017 Atlanta intern Niambi Landy-Philpott and 2017 Chicago intern Tracey DeSouza met with the interns at a briefing lunch on July 5th in the BFIS offices to give them advice on how to make the most of this opportunity and answer any questions they had.
During these short and intense programmes from July 9nd – July 20th the students in Atlanta will be hosted by: AIG, Allied World, Alston & Bird, AmWINS, AON, Arch, Axis, Chubb, Coca-Cola, Cunningham Lindsey [MCL Global], Lloyd's, Lockton Companies, Markel, Marsh, Merlinos, RPS Atlanta, Southern Company and USI Insurance Services.
The Chicago progamme is organized by the Katie School and their alumni, many of whom have participated over the years in the BFIS Bermuda intern programme. The students will be hosted by: AIG, Allied World, Aon, Arch Insurance, Chubb, Lockton, Travelers, Willis Towers Watson, XL Catlin and Zurich, and they are also invited on the Chicago's Insurance Association Lake Michigan cruise.
Jane Bielby, BFIS Administrator and programme organizer, said, "These two short weeks can really help students focus on the direction of their studies and aspirations. Students participating in our intern programmes since 2002 now total 158, with 96% of those who have graduated finding careers in the insurance sector."
"It takes a great deal of organization and planning to coordinate these programmes and BFIS appreciates the enthusiastic response we receive from the hosting companies and their staff, many having hosted our interns every year since the programmes started."
A presentation by all the 2018 intern groups will take place at lunchtime on Monday, July 30 at KPMG. Students interested in applying for the 2019 programmes are welcome to attend and should email BFIS at info@bfis.bm to register.
The BFIS Overseas Intern Programmes are sponsored by XL Catlin.
Read More About