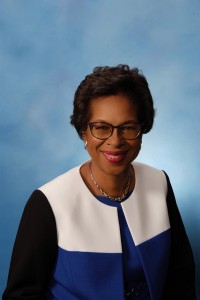 [Updated] "Government's first year in office will be remembered for broken promises and increasing the cost of living for the average Bermudian," the One Bermuda Alliance said today.
"Let's just look at a few of the obvious things first," said OBA Leader Jeanne Atherden. "We've had new taxes,  the Airbnb tax as well as the Sugar Tax, we've had an increase in the standard premium rate and the standard health benefit.
"In short, the increased costs imposed by this Government will more than have wiped out the payroll tax relief they had in this year's Budget and left the average Bermudian worse off.
"On one hand Government talks about helping Mr and Mrs Bermuda, but the reality is that it has made life harder for Mrs and Mrs Bermuda.
"The PLP has been in power for 15 of the last 20 years, it is their policies that have put Bermuda where it now finds itself and it is their continuing policies that continue to negatively impact the average Bermudian."
She said that "one year after Government made its pledge, wi-fi was finally being installed in all schools, yet recently the Bermuda Union of Teachers stated that its members were still buying essential items out of their own pockets.
"A new Commissioner of Education has yet to be appointed and a new Executive Director has yet to be found for the Gaming Commission – a year after Richard Schuetz resigned," said Ms Atherden. "The necessary regulations for gaming are still months away despite being finalized by the Commission more than a year ago.
"We have also seen flip flopping from the Premier on independence, boasts about MOUs and incorporations and legislation and policy announcements that have been rushed and ill-considered. The Sugar Tax, for instance, had to be amended several times," added Ms Atherden.
"And without the full explanation of how policy changes will impact the community-at-large, the public can feel that they are being misled into agreeing to changes when the full agenda is not clear."
She said last week the Premier had announced that 43 fintech companies had, or were in the process, of incorporating in Bermuda.
"That sounds like a nice headline figure but what was noticeable was the lack of any job numbers," she said.
"So what we really need to ask is that with all this flurry of activity – new taxes, cost of health increases and unfulfilled promises for more jobs – is 'where are we really going and what is this new Bermuda that we are creating'?'
"If this fundamental question has to be asked, it means that Government has, in this its first year, failed to keep its promise of transparency, accountability and collaboration.  Any changes that happen to Bermuda should be informed changes, not changes that are rushed through while leaving Bermudians behind."
Ms Atherden also said:
"A private company, Arbitrade, announcing Government policy that is yet to be announced by Government, such as a chicken farm for prisoners and the use of an FBI weapons training programme for schools and charities.
"Failure to build on the legacy of the America's Cup with an unfulfilled pledge to replace the ACBDA with a new events authority or pushing through super yacht legislation which could have created a whole new industry.
"Reverting to once-a-week-trash collections.
"An unspecified and ill-considered pension plan to allow for progressive contributions.
"A lack of explanation over $778,000 given to a former leader of the PLP to support his private business.
"Harming local businesses with a $10 million Sugar tax – and failing to say how much of that revenue will go to health initiatives, as originally promised.
"Increased fees and other taxes: Government Fees increased five percent, the tax on vacation rental, a commercial rent tax and an increase in cell phone fees all of which will hit all businesses and entrepreneurs.
"The debacle concerning the Commissioner of Education and a failure to appoint a new executive director of the Gaming Commission – one year after he quit.
"Unexplained plans to create a new bank because local banks refuse to deal with the proceeds of crypto currency, raising many red flags.
"The creation of a FinTech fund which lacks accountability and regulations over the use of the money.
Loss of the protection of the 60/40 rule so that anyone can have majority ownership in newly created Bermuda companies.
Ms Atherden added: "The PLP's election manifesto promise said, 'Your next PLP Government will Implement the National Health Plan to reduce healthcare costs for all Bermudians' and 'Reduce healthcare costs through greater competition in the local insurance market and through the use of technology to make healthcare delivery more efficient'.
"The Throne Speech said 'the cost of health care is a major expense for the government and private employers, which reduces our global competitiveness. Cost reduction will lead to savings that will promote economic growth. The Government will launch a comprehensive review of healthcare costs in Bermuda and will seek to extract savings throughout the entire healthcare system'.
"So in 12 months we have seen promises broken twice. That is not acceptable."
"I call on the PLP to keep its promise of collaboration, transparency and accountability.  Bermuda should work for all Bermuda but we cannot tell what sort of Bermuda Government is creating."
Update 3.09pm: PLP MP Chris Famous said, "While the OBA is singularly focused on trying to distract from their internal divisions and lack of proactive ideas, the PLP remains focused on the people of Bermuda.
"That is exactly why we are hosting our Community Give Back dinner tomorrow at 5pm for those in need. Following that event, at 7pm the Progressive Minds will be hosting their Mix and Mingle for young persons between between 16-34.
"This government, your government, remains committed to executing our agenda as laid out in last year's Election Platform and most importantly focused on putting Bermudians first."
Read More About