[Written by Don Burgess]
Childhood friend Rockal Evans said Taylor Grier was an entertainer at heart who loved dancing.
Last Friday, two men on a motorcycle fired multiple gunshots in the area of Court and Elliot Street, resulting in the death of 30-year-old Mr Grier, while a 55-year-old man was injured.
Mr Evans said the two of them went to the same schools together starting at the primary level all the way through secondary school.
Tribute sheet to Mr Grier on Court Street: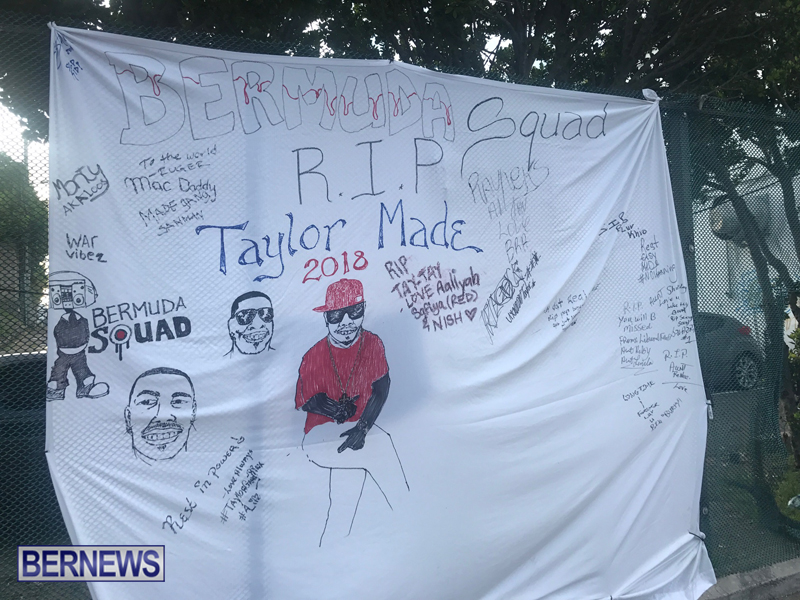 "Taylor was a very popular person growing up," Mr Evans said. "We spent the most time together in primary and middle school where we became very good friends. We had sleepovers at each other's houses on the weekends and summer holidays.
"He always loved dancing and putting on a show for the girls and crowd – he loved the attention. We always kept in touch wherever we were in the world."
The Undergrounds Facebook page posted a tribute to Mr Grier, showing him participating in the Bermuda Day parade.
Video by JROC:
The police held a press conference about the shooting earlier today, saying, "This senseless act of violence took the life of one of Bermuda's most prominent dancers and a loving father and the Bermuda Police Service is committed to bringing the perpetrators of this heinous act to justice."
"No matter how insignificant you believe the information you have is, we would like to hear from you. This will require individuals to be bold and to take a stand on violence in their community. Anyone with information should contact Sgt. Dean Martin at 295-0011 or the Confidential Crime Stoppers Hotline at 800-8477."
Read More About