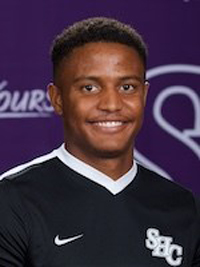 Judah Chapman scored again for this Spring Hill College as they recorded a 2-1 victory against University of Tampa, marking the second goal in the past few days for the Bermudian footballer.
The school's match report said, "The Spring Hill College [SHC] men's soccer team traveled to Tampa, FL on Monday and came away with a 2-1 win against #23 ranked University of Tampa.
"It was a tale of two halves for the visiting Badgers. During the first period, Tampa controlled most of the game despite the Badgers outshooting Tampa 4-2. The two teams battled until Tampa scratched in the match's first goal in the 40th minute when Julius Becker scored an unassisted goal to send Tampa into the half with a 1-0 advantage.
"The Badgers regrouped at halftime, made some tactical and personnel adjustments and came out firing on all cylinders in the second stanza.
"The Badgers scored the equalizer in the 55th minute when Judah Chapman tallied SHC's first goal of the contest to knot the score at 1 apiece on a rocket from just outside the box into the upper left corner. The two teams played evenly for the next twenty-five minutes before Matthew Moreno scored the game winner in the 79th minute by putting the ball past the Spartan keeper after several deflections."

Read More About