The completion of structure of the new airport terminal building was celebrated this evening with speeches and a party for the workforce.
More than 200 workers representing Aecon and sub-contractors were thanked for their work on the project over the past year and a half.
Frank Ross, Aecon's Executive Director, Infrastructure, said: "Special thanks go to the erection crews from Correia Construction who, in partnership with Benson Steel, have combined to deliver this incredible structure.
"This has been a collaborative team effort between Bermuda and Canada and this achievement is nothing short of miraculous. I would like to extend my deepest thanks and appreciation to everyone who helped bring the project to where it is today."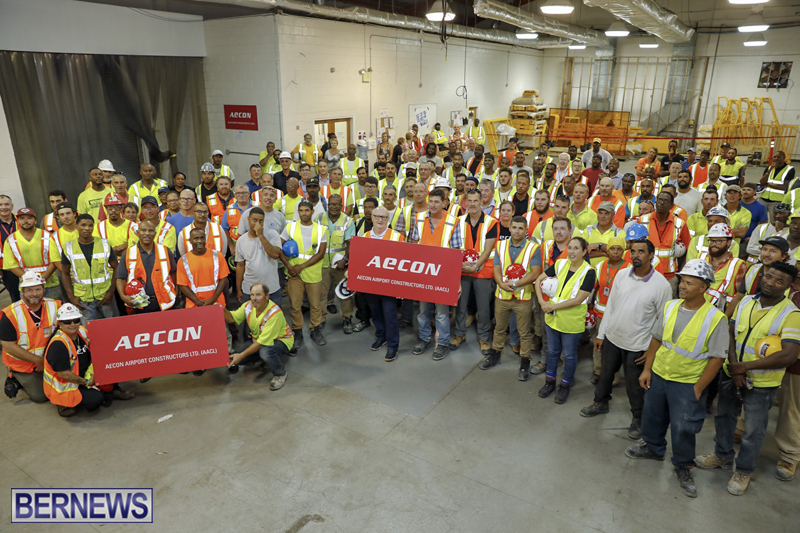 Skyport said, "The project is on schedule and on budget, with a targeted completion date of July 2020. The following work has been completed:
More than 3,400 tonnes of structural steel erected representing nearly 26km in length.
741 steel piles, which are more than 112 feet long, for the foundation.
8,000 cubic meters of concrete poured.
100,000 cubic meters of processed local fill laid to form the new aprons, roads and building platform — almost a quarter of a million square feet.
Construction of new 600,000 gallon water storage tank, which will provide up to a month of water supply in the event of a summer drought.
The 10-minute live video replay is below:
"All work has been completed without a single lost time injury with more than 350,000 man hours being logged."
"The steel topping out will occur at the earliest safe opportunity, depending upon weather conditions. Topping out is a centuries old tradition and represents the completion of the steel structure that will form the new LF Wade International Airport."
Aaron Adderley, President, Skyport, says: "The progress being made on the construction is impressive and to reach this milestone is a testament to the men and women working on the site who are proudly building something that will have a lasting impact for generations to come."

Read More About