The Bermuda 3s — a PGA Pro-Am on three Bermuda golf courses, Mid Ocean Club, Port Royal Golf Course, and Turtle Hill Golf Club — is set to take place from October 21 – 26, with teams from Canada, U.S., U.K., Ireland and Europe to participate.
Founded by Joe Steranka and Ken Kennerly, their vision is to create a highly competitive tournament bringing regions of the world to Bermuda.
"We envisioned an international competition with pros and amateur golfers meeting people from around the world and playing for their country," says Kennerly, 30 year golf industry executive, avid sailor, and frequent Bermuda visitor.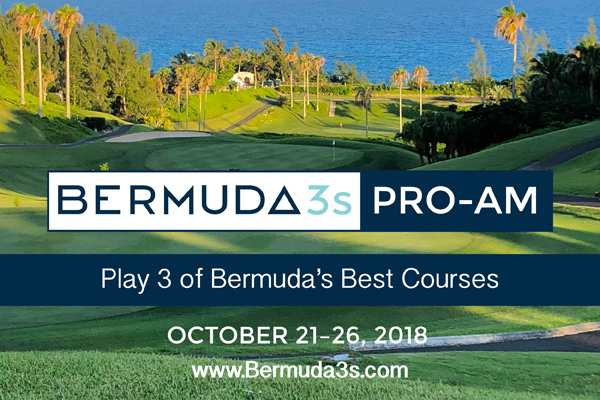 "Our goal was to create an event celebrating the influential role PGA Professionals have in bringing members to exotic golf locations," says Steranka. "This will also be the first time for many to represent something more than themselves on the golf course.
"These amateurs and professionals may have played on a high school or college team, but never for their country. Bermuda 3s will build a comradery unmatched in their golf careers."
When the PGA Grand Slam of Golf ended in 2014, Steranka and Kennerly saw an opportunity. That same year, they attended a golf strategy meeting with Bermuda Tourism Authority.
"Having seen the experience from players, officials and fans, we knew the potential of team golf and Bermuda as a destination," Steranka adds.
The Fairmont Southampton is the host hotel, and will be setting for the opening and closing ceremonies of the Bermuda 3s World Team Championship.
"Considering the location, purse, international flair and blend of PGA professionals and amateurs, Joe and I believe Bermuda 3s offers an experience golfers can relish for years to come," says Kennerly.
"We couldn't ask for better partners than the Bermuda Tourism Authority, Fairmont Southampton and our three courses."
For more information visit Bermuda3s.com.

Read More About