Following last night's 12-0 victory over Sint Maarten in the CONCACAF Nations League Qualifier, Bermuda's captain Dante Leverock expressed his gratitude to local football fans, saying "thank you for the support."
Leverock — who plays professionally in the Estonian Premier League — tweeted, "Massive thank you to all the fans that supported the Bermuda Football Association boys tonight a positive result and confidence boost for the game next month. A privilege to Captain my country for the first time. Thank you for the support."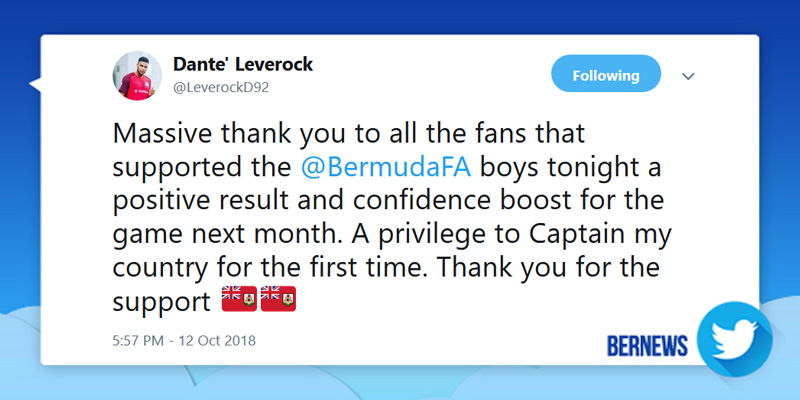 His comments follow after the Bermuda Senior Men's National Football Team recorded a massive victory over Sint Maarten at the National Sports Center last night [Oct 12], scoring goal after goal.
Zeiko Lewis [28', 40', 88'] and Reggie Lambe [10', 17', 84'] scored hat tricks, while Lejuan Simmons [13'], Tre Ming [37'], Osagi Bascome [43'], Liam Evans [54'], Tehvan Tyrell [62'] and Dante Leverock [73'] scored a goal each.
Bermuda will next take on El Salvador on November 16th at the National Sports Centre, marking the third match for Bermuda in this inaugural Concacaf Nations League Qualifying Round.

Read More About