In August, One Love Promotions and First Class Air Conditioning hosted "Catch A Fire" — an all-night Roots, Rock, Reggae party at Snorkel Park –  and recently donated some of the proceeds to the family of the late Maria Caisey.
This event was originally planned as a fundraiser for Maria Caisey's medical expenses, however unfortunately Ms Caisey succumbed to cancer just before the event, hence the fundraiser goal was changed to assist with her funeral cost.
Jamal Hart from One Love Promotions, Maria's son Kemon Simmons aka Dj Jim Brown, and Shawn Simons from First Class Air-Conditioning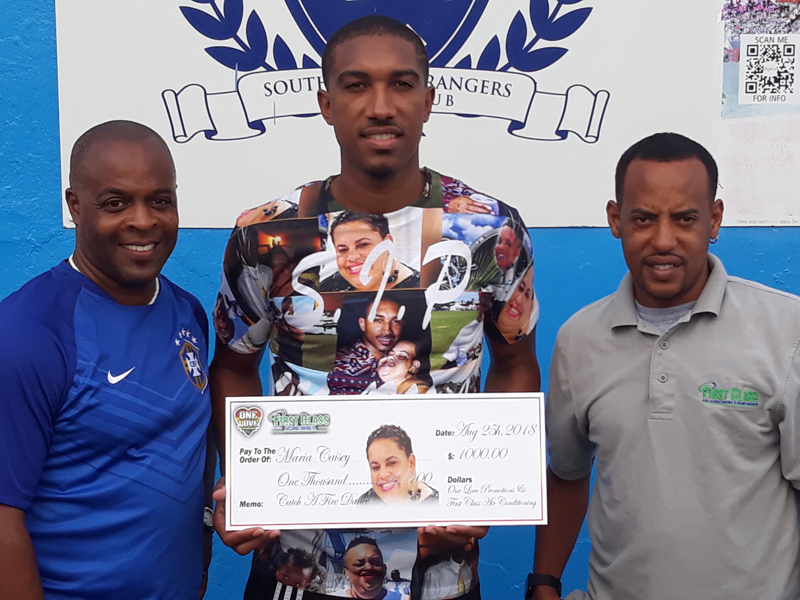 The organisers said, "All of the Dj's played vinyl records only and featured: Dj Holmes, Malcolm 'Lethal Weapon' Smith, Magnum Force and Rizzla Matic.
"The 90's era – "Rock" featured one of Maria's favorites from Jamaica – World Champion sound "Bass Odyssey". Maria's brother – Dj Julz, led a special tribute for her and was followed by female selector Dj Jada of Magnum Force, Black Star, Desert Eagle Int'l and Bass Odyssey.
"Rounding out the night was the 2000's era – "Reggae Juggling" led by: OGS Genesis, Hollywood Int'l, Young Gunz Sound and Bass Odyssey.
"Over 500 people came out for the all nighter and it was sweet vibes all night long."
The promoters said they "would like to thank everyone who came out to support this first time event and making it a success. All of the Dj's, sound technician Mr. Shawn Spencer [Heavy Load Sound] and the Management and staff of Snorkel Park Beach."
"Maria lived a life of love. May her soul Sleep In Peace," they added.

Read More About
Category: All, Entertainment, Music