On October 3-4, more than 300 attendees from 13 different countries arrived at the Hamilton Princess for Bermuda Convergence 2018 – a networking event covering the alternative reinsurance, insurance-linked securities [ILS], and collateralised reinsurance landscape, now in its sixth year.
"Initial feedback from delegates and sponsors indicates Convergence 2018 was a resounding success. Expectations were exceeded with the number of delegates along with a record number of guests from overseas including from: USA, United Kingdom, UAE, Netherlands, Guernsey, Switzerland, Barbados, Australia, Canada, Ireland, France, and Germany," the organisers said.
Greg Wojciechowski, CEO, Bermuda Stock Exchange, and ILS Bermuda Chairman, said: "As alternative capital flows into the sector are poised to continue into 2019, an annual event such as Convergence 2018, held in Bermuda each year, is as important as ever.
"Convergence is an event created by the industry for the industry and provides a unique opportunity for those in the sector to come together to discuss trends, innovation and developments within the industry. The Bermuda industry based team is proud to have hosted our sixth event and thankful for all those so that make the journey to our annual gathering. We look forward to welcoming our colleagues back next year."
Kathleen Faries, and Greg Wojciechowski: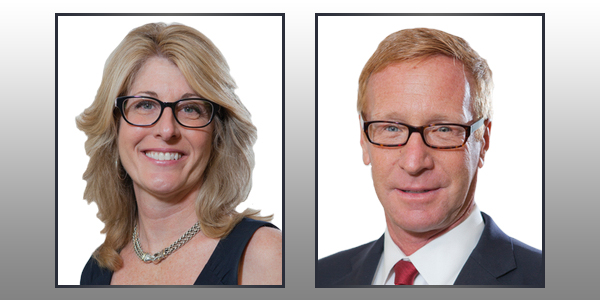 A spokesperson said, "Bermuda plays a key role in the global market as a leader in ILS.
"The idea of anchoring Bermuda as a centre of excellence for the creation and listing of ILS structures and hosting an event in Bermuda was conceived by ILS Bermuda Ltd., which is comprised of industry executives working together on a volunteer basis to promote Bermuda's expertise in the industry. The Bermuda Business Development Agency [BDA], as well as overseas and local corporate sponsors supported the event.
"Bermuda Premier and Finance Minister, the Hon. David Burt J.P., M.P., along with BDA Chairman, Paul Scope opened the event with a fireside chat. Mr. Burt, who has attended annually from its inception, discussed key achievements for Bermuda in fintech, insurtech and emerging digital technologies including updated legislation and new business entrants.
"It was an exciting few days that featured non-industry keynote speaker Kara Swisher, well known for her invaluable knowledge on innovation related to the tech and media industry. Ms. Swisher is Executive Editor of the Recode Decode Podcast and Co-Executive Producer of the Code Conference.
"The event also featured industry pioneer, Dr. John Seo of Fermat Capital Management as the industry keynote speaker. Dr. Seo is an active participant and very well known to the ILS industry and widely sought after for his valuable insight and industry expertise.
"Following the success from previous years, the popular "Bermuda Shorts" speaking format was repeated again this year. These specially tailored 12-minute presentations feature a format where speakers share their recent research, a business idea, or an informed market viewpoint. The rapid format provides attendees a brief overview of current topics and ideas from thought leaders within the industry."
Kathleen Faries, Deputy Chair of ILS Bermuda Ltd., and Head of Bermuda Branch, Tokio Millennium Re AG, said in the opening remarks: "Bermuda is uniquely positioned to capitalize on opportunities.
"We have the reputation, experience and track record that will enable us to be a natural home for the coming transformation of the industry – especially where technology, analytics and capital begin to work together to enable more efficient transfer of risk. We will be here – building on our history and experience and putting our intellectual capital to work."
"Bermuda continues to maintain its position as the leading jurisdiction for the issuance of ILS. The BSX accounted for just over 80% of the global market capitalisation of ILS at the end of the third quarter of 2018 to the tune of $30 billion of the outstanding volume. The Bermuda Monetary Authority reported at year-end 2017, 325 ILS bonds had been issued of which 203 were issued by Bermuda domiciled SPIs since 2009.
Sean Moran, Interim CEO, Bermuda Business Development Agency [BDA], said: "The BDA was proud to once again sponsor Convergence 2018 and support our ILS Bermuda colleagues.
"Bermuda's ILS market continues to be the world leader, putting our jurisdiction on the map for this asset class and proving we are a centre of excellence. We welcome all delegates to this unique event, which showcases Bermuda's innovation. ILS Bermuda will continue to work with industry and government to underscore the sophistication and substance of Bermuda's infrastructure."
"Bermuda is well placed to lead transformation both due to its history of facilitating innovation and the wealth of industry knowledge and expertise on the island. Thanks to established relationships, infrastructure and technical expertise, Bermuda will continue to adapt and drive the growth of the ILS industry."
Read More About