Hamilton Insurance Group, the Bermuda-based property and casualty insurance and reinsurance company with operations in Bermuda and at Lloyd's, today announced the lineup of panelists who will participate in a conversation on innovation at the GR Innovation & Insurtech conference to be held on November 19, 2018, at Rosewood Bermuda.
Hamilton CEO Pina Albo will lead a panel titled The Inspiration Injection. Four executives will share their insight into the "secret sauce" that translates forward-looking vision into reality.
Pina Albo, Cathy Duffy, Jacqueline LeSage Krause, Karen Morris, and Ann Petley-Jones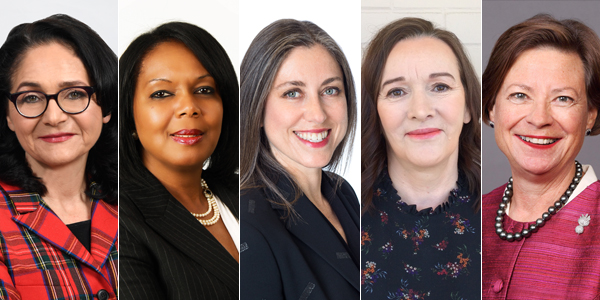 Joining Ms. Albo will be:
Cathy Duffy, Bermuda market industry veteran
Jacqueline LeSage Krause, Managing Director of Munich Re / HSB Ventures
Karen Morris, Strategic Advisor specializing in innovation strategy and execution
Ann Petley-Jones, Founder and Owner, PetaData Holdings Ltd and Riverhead Investments Limited, and Past Group Chair and CEO of the Eastlink Bermuda Group
"I'm delighted that we've been able to attract these four distinguished women to the GR Innovation & Insurtech conference," said Ms. Albo. "Each has forged a remarkably successful career in her respective industry. We'll be looking at what it takes to move from inspiration to application, and what can derail an idea that seems full of potential but falters and dies in execution.
"Given that the focus of the GR Innovation & InsurTech conference is the intersection of insurance and technology, we'll also consider the common ground between the two industries that leads to true innovation."
Ms. Albo, who tomorrow participates on a panel on the future of insurance at the InsureTech Connect conference in Las Vegas, noted that Hamilton is lead sponsor of the conference, now in its second year, a position taken because of the Company's strategy of leveraging data science and technology to transform underwriting.
"At Hamilton, we aim to embed technology in everything we do, whether it's at Hamilton Re, our Bermuda platform, or Hamilton at Lloyd's, our platform at Lloyd's. Along with AIG and Two Sigma, we're an investor in Attune, a US-based digital MGA focused on transforming the small commercial insurance market segment.
"Sponsoring the GR Innovation & Insurtech event aligns with our mission and our strategy, so we welcome the opportunity to enable lively and thought-provoking dialogue at this year's conference."
For information about how to register for the GR Innovation & Insurtech conference, please visit here.
Read More About