Seven members of the Harbour Gold Squad left for Canada recently for focused training and team building in Ontario, with the swimmers finishing their week with an impressive showing at the Gus Ryder Memorial Cup Invitational at the Olympium Pool in Etobicoke, Ontario.
A spokesperson said, "The Harbour team, consisting of Alyson Scherer, Lindsay Scherer, Finn Moseley, Myeisha Sharrieff, Caitlin Coleman, Giada Dudley-Pun and Brandon Adkins captured 25 medals: 15 gold, 7 silver and 3 bronze. The team also accomplished 31 personal bests in 38 swims. Coaches Shona Palmer and Jenny Smatt were pleased with the results the swimmers posted over the weekend."
"The swimmers applied themselves in training all week, set their goals and each of the them rose to the challenges presented. Following this intense training week, the results are a great indication of what is to come for us as a team and for the sport of swimming in Bermuda," said Gold Squad coach and former Olympian Jenny Smatt.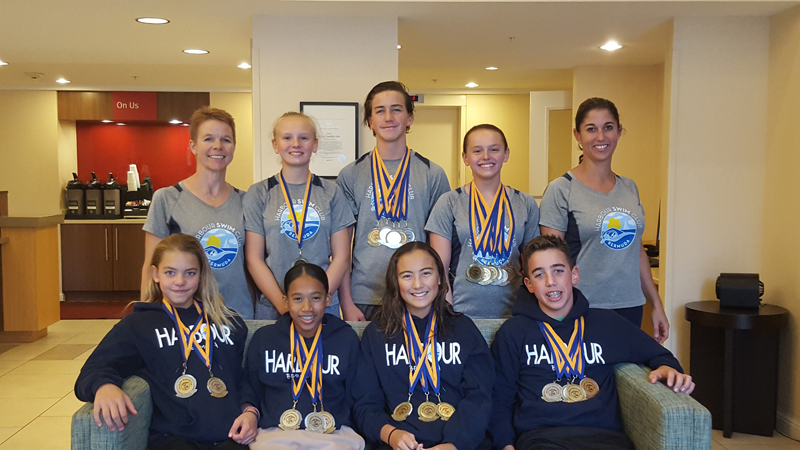 "Alyson Scherer and Finn Moseley set the tone early in the meet when each of them made significant improvements to their personal bests capturing gold in the 100m freestyle events posting times of 57.01 and 1:01.52 respectively. The afternoon session brought outstanding swims from Brandon Adkins, dropping almost 5 seconds in the 200 Free swimming to a personal best time of 2:17.40; Giada Dudley-Pun swimming to gold in a personal best time of 35.99 in the 50 Breast; Caitlin Coleman swimming to a personal best time of 41.08 in the 50 Fly and Myeisha Sharrieff to a personal best time of 2:26.44 in the 200 Free.
"Sunday brought more excitement to the pool when Myeisha Sharrieff captured gold in the girls 11 to 12 100 Freestyle in a time of 1:06.39; Alyson Scherer captured another gold in the girls 15 and over 200 Freestyle in a personal best time of 2:18.09 and Finn Moseley swimming to gold in the boys 13 to 14 50 backstroke in a personal best time of 30.83. The meet finished with the 50 freestyle where Harbour swimmers took gold in several age groups, all achieving personal best times in this event."
"I am really proud of each of the swimmers' performances and as a team they came together to support and encourage each other in practice and in competition," said Harbour Head Coach Shona Palmer and former Commonwealth Games swimmer.
"One of the main goals is qualifying for international age group meets. We are thrilled that in addition to those who have already met the qualifying standards, many others are now closer to qualifying, with Finn Moseley achieving one time in the 50 Freestyle and narrowly missing a second qualification by hundredths of a second during the meet."

Read More About