The Kiwanis Club of St George has a new leadership team in place, with the Officers and Directors were installed at banquet which was combined with the club's 30th anniversary celebration.
"One special guest of honour at the event was New England & Bermuda Kiwanis District Governor, Daniel Bennett, who was accompanied by his wife – 'First Lady' Janet Bennett," the Club said.
"The new Kiwanis St George Board of Directors is shown in the photo, along with Governor Daniel Bennett. From left to right they are Director Buddy Fleming, New England & Bermuda District Governor Daniel Bennett, President Gary Kent-Smith, Director David Burgess, Vice President Daron Lowe, and Treasurer Craig Outerbridge. Missing from the photo, and the occasion, was Secretary Scarlett Pottinger, who was abroad on a personal family matter."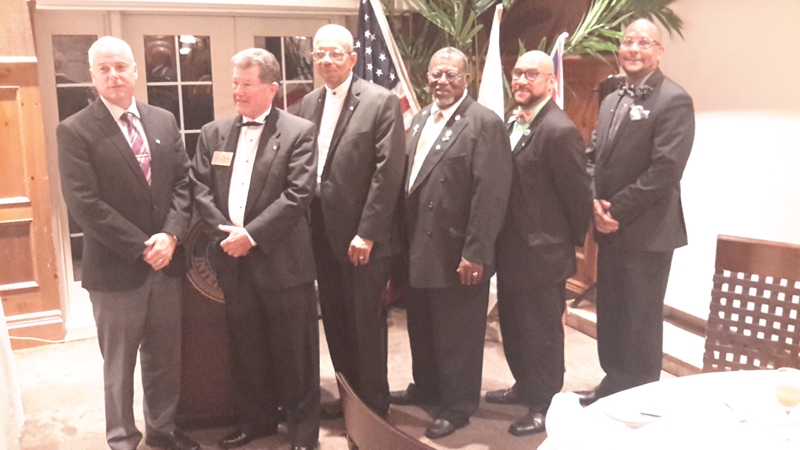 "At the outset of the evening the active charter members and the head table guests were 'piped' in by A. David Frith, who also performed in his role as the Town Crier.
"The main thrust of Kiwanis Clubs worldwide is 'serving the children of the world' and some 30 years ago Kiwanis St George helped a child battling cancer to fulfill a dream. The club sent then–four year old Joshua Smith and his grandmother, Mary Baisden, on a dream trip to Disney World. The youngster conquered pediatric cancer and now lives and works in California.
"To bring back memories – especially to the club's five active charter members – a surprise was arranged in the person of the same Joshua Smith, now a hotel manager in Pasadena, California.
"He gave a personal and somewhat emotional account of battling pediatric cancer, and was happy to advise that the illness is now in remission. He told the gathering that he still remembers going to Disney World, and thanked the club for their kindness 30 years ago.
"Another highlight of the dinner was the announcement of the 'Kiwanian of the Year', an honour determined by the President.
"This year, in recognition of their 'staying at the wicket,' Kiwanis St George actually had four of the five active charter members share the accolade – they are Evadne Caesar, Fanny Churm, Harold Millett, and Lily Oatley.
"Additional special awards were handed out: recipients were Buddy Fleming for his work in organizing the Barbuda hurricane relief effort; David and Altama Burgess for spearheading the 'Jazz Under the Stars' event at Fort St Catherine; and to Daron Lowe for heading the 'Hero of the Year' project.
"All other members were awarded Certificates of Appreciation to mark the club's milestone. Kiwanis is a group of volunteers dedicated to improving the world – one child an one community at a time."
Read More About
Category: All