The Bermuda Economic Development Corporation [BEDC] is gearing up to celebrate the island's small businesses and entrepreneurs on November 11th as the winners of the 2018 Small Business Awards are revealed at a gala event to be held at Pier 6.
Tickets are currently on sale now, and with last year's event selling out, it's a good idea to get your tickets early. Categories for the 2018 awards will include: Entrepreneur of the Year, New Business of the Year, Most Enterprising Young Entrepreneur, BEDC Client of the Year, and People's Choice.
A separate award for top Vendor of the Year will also be given out for the micro-enterprise with the best Bermuda made or inspired product, who displays stellar customer service, as well as excellent packaging and merchandising.
Last year's People's Choice Award winner – Jolessa Holdipp of Klassiq Kidz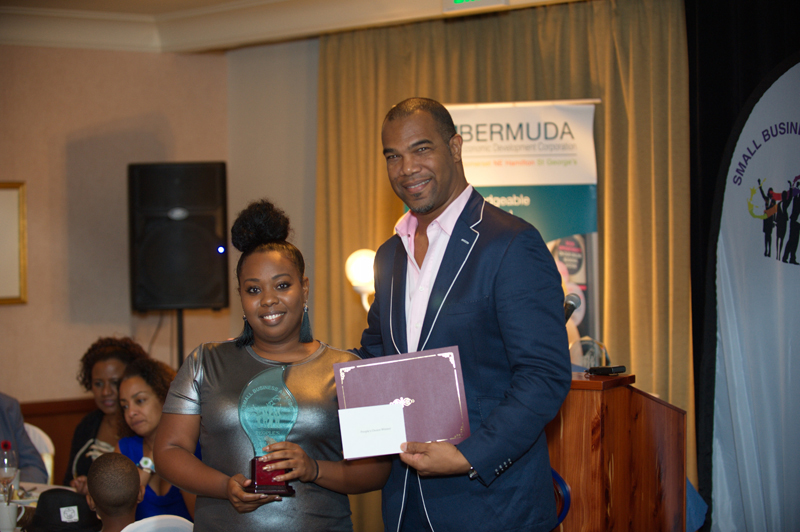 The BEDC is encouraging the public to get involved by voting for their favourite small business in an online poll beginning this week [October 22nd ]. Votes from the online poll will determine the winner of the People's Choice category.
Those voting for the business should consider the following criteria: does the business offer an innovative product or service; have Bermudian employees; no negative complaints issued to Consumer Affairs; and have a high level of community involvement/ social responsibility.
Ondreyah Rochester, BEDC's Junior Micro, Small and Medium Enterprise Officer, said: "Last year's Small Business Awards was a huge success and we are looking forward to another noteworthy event celebrating small businesses again this year. Last year's event was a sold-out event, and anyone who attends this year will be treated to great food and entertainment, all while supporting and celebrating small businesses in Bermuda."
"We also encourage the general public to get involved by voting for their favourite small business, so we can truly get an idea of some of the best small businesses on the island and look forward to announcing the winners at our awards dinner on Sunday, November 11."
In 2017, the inaugural Small Business Awards were hosted at Elbow Beach on Sunday, November 12th. Several businesses were nominated in multiple categories, but ultimately prizes were given to the entrepreneurs/small businesses which scored the highest based on the BEDC's set criteria.
Last year's winners included: Mark Prior of the Bermuda Combat Club [Entrepreneur of the Year]; Beach Boys Ltd., Operators of Tobacco Bay [Business of the Year]; Cire Bean, of Pay-A-Kid, [Most Enterprising Young Entrepreneur]; and Alexandra Mosher, of Alexandra Mosher Studio Jewellery [BEDC's Client of the Year]. In addition, the People's Choice Award went to Jolessa Holdipp, of Klassiq Kids, who garnered 326 votes from the public.
To vote for your favourite local business owner or business, visit here. Tickets for the Second Annual Small Business Awards are $85 and can be purchased on www.bedc.bm or through ptix.bm.
Read More About