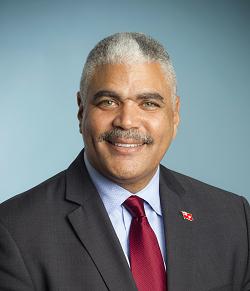 Opposition Leader Craig Cannonier delivered the formal response to the 2018 Throne Speech today [Nov 16] in the House of Assembly saying that we are "on a path of perpetual contraction."
In his reply Mr Cannonier said: "The Government's previous announcement of the doubling of guarantee capital at the Bermuda Economic Development Corporation may sound good politically, but in reality it does nothing. The existing loan guarantee capital at BEDC was only at about 30 percent capacity. As I've already mentioned, the real struggle for Bermudian entrepreneurs is getting access to bank loans. What Bermuda needs is more financing options, not meaningless political gestures.
"The OBA therefore proposes that private pension schemes invest a portion of their portfolios locally. We also propose that all companies that operate in Bermuda, including those in the exempted space, participate in the mandatory private pension scheme.
"This will help mitigate the immediate outflow of capital from our shores and drive the development of our local capital market. The Bermuda Stock Exchange has seen a marked decrease in the participation of local non-finance companies over the years.
"The 60/40 rule should also be amended again, so that all Bermuda residents may qualify under the 60 percent ownership portion, subject to a carefully designed set of criteria. This will allow more of the wealth already on the Island to be invested into our economy, which again increases the availability of domestic capital. This provides more competition for the banks, which will drive better lending rates for Bermudians."
Mr Cannonier added: "We must also pass bankruptcy legislation. The ability to fail, and rise again, is essential to innovation. It is essential to business creation. Our present framework makes it far too difficult to start again. Bankruptcy legislation is essential to the development of a successful entrepreneurship ecosystem. Bermuda can be a hub of innovation. We must create not only the educational programmes, but also the legal framework, so that when business start-ups encounter risk this need not be life-ending.
"The BMA should be empowered through legislation and budget to monitor the effects of legislation on our economy. The BMA should have a specialized economic unit, staffed with trained economists. The BMA should also have the ability to monitor – and regulate if necessary – the fees that banks charge, both for services as well as lending to deposit spread.
"The Government should also review each and every public service and department to see which ones can be funded by Government, but delivered by the private sector, in order to inject much needed innovation into those services.
"There could even be models whereby the same civil servants that presently deliver the services could be empowered through ownership in the newly spun-off ventures. Government could provide fixed term multi-year contracts to ensure a stable income stream. This would allow these entrepreneurs to expand and reinvest, thereby delivering more successful outcomes.
"The efficiencies created will lead to more economic activity and increased growth. The same employees will benefit from the resulting profits previously lost to bureaucratic inefficiencies. Business management support can be provided from Government during the transition period. At the end of the period, the economy will have a more competitive and efficient service delivery system, a new generation of small and medium business owners, and — in the medium to long term — a more productive tax dollar spend."
Mr Cannonier added: "We propose that Government adopt a ladder scheme whereby small businesses progressively gain access to larger Government contracts. The first rung of the ladder would be for smaller contracts, thereby affording small businesses responding to their first Request For Proposal [RFP] greater chances of success. After the first success, both Government and the small businesses will find comfort signing contracts for the successively larger and more complex jobs higher up the ladder."
On health, Mr Cannonier said: "The reality is that within five years, healthcare costs will reach $1 billion. We believe that a public register to track utilisation across the whole system will lead to a more transparent and meaningful conversation about which services are being overutilised. This will remove the ability for those with vested interests to divert progress towards a sustainable and affordable health care solution for all Bermudians."
The OBA leader outlined a series of initiatives to improve education, including: budgeting per term for teachers to buy supplies and equipment for classrooms; establishing an independent standards board – the education equivalent of the Auditor General — to provide independent and objective reports on schools and overall student performance and establish a professional development centre for teachers to focus on teaching skills, effective classroom discipline and on-going training.
"An OBA Government would also reduce the number of school holidays so that they are aligned with other G20 countries so that students spend more time in school, extend the school day to allow for more time for the arts as well as sports and academic support, incorporate coding training into schools and explore same sex schools for male students that would combine a solid academic foundation with a strong technical education curriculum to provide good career options upon graduation," said Mr Cannonier.
"We would create standards for a national physical fitness programme that addresses health, exercise and diet beginning in primary schools. We would create a specialist team for each school that provides academic, remedial and social assistance to students and parents and allocate resources for support and counselling.
"We would invest in continuing education and re-training and partner with the business community, unions and the Bermuda College to define the skills required for professional and trade careers. I always think that if it is a good idea then use it. Removing politics from tourism brought results. We believe that an Independent Education Authority would do similar great things for our children."
Mr Cannonier added: "The OBA's record in government was one to be proud of in terms of what we achieved. Before the 2017 election we were on track to balance the budget in fiscal 2018/19. Major projects were either being completed or had broken ground. Business confidence was once again on the rise. The opportunities for Bermudians were bearing fruit. Jobs for Bermudians were being created.
"The recent economic indicators show that Bermudians were better off in the first quarter of 2015 than the first quarter of 2018. We have compared the data from 2015 so that no-one can say there was an artificial increase because of the America's Cup. When you include the GDP boost in 2017 due to the America's Cup, the PLP numbers for the first quarter of 2018 become even more dismal in contrast to the successes of the OBA."
The full 2018 Reply to the Throne Speech is below [PDF here]:

Read More About