The Bermuda Blood Donor Centre is today [Dec 5] thanking two donors, Mr Peter Barrett and Chubb, who have provided funding for polo shirts that are being awarded to long term blood and apheresis donors who have donated throughout this year.
Peter Barrett first made a donation for the Blood Donor Centre to purchase shirts for people who donated over a 3 month period if they were long term donors. To make this a more 'regular thank you' throughout 2018, Chubb stepped in to fund the rest of the year's supply of the shirts. Chubb is also a competitor in the Corporate Blood Donor Competition 2018/19.
Samantha Froud from Chubb; Lucy Correia, Nurse Phlebotomist from the Bermuda Blood Donor Centre; and Peter Barrett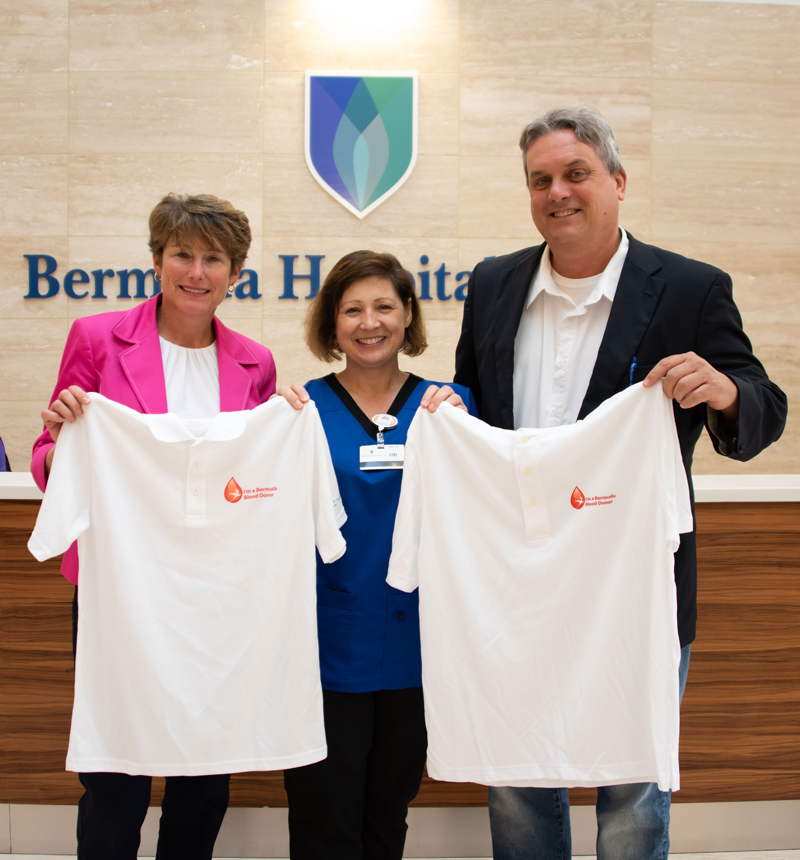 Dr Eyitayo Fakunle, Consultant Haematologist, comments: "Our blood donation is entirely voluntary, in line with World Health Organisation best practices. These shirts show our gratitude for people who have donated regularly this year, supported by Mr Barrett and Chubb.
"We are very grateful to them for this support in recognizing true heroes who save lives in Bermuda every day. Our hope is that seeing friends and family in the polo shirt may also encourage others to overcome whatever inhibitions they have and to join the most giving group in Bermuda – blood and apheresis donors."
Mr Barrett comments: "It was a pleasure to work with the Blood Donor Centre to initiate this programme. We should all be very grateful that Chubb has stepped forward to keep this programme going.
"For those who can, I encourage everyone to volunteer a small part of their day to donate. Your pint of blood saves lives and it also helps to manage the healthcare needs of at least three patients. Without question your donation has a significant ripple effect throughout the community."

Read More About
Category: All