Vanessa James and Morgan Cipres have claimed yet another victory , with the duo winning the pairs event at the ISU Grand Prix of Figure Skating Final in Vancouver, Canada on Saturday [Dec 8].
The International Skating Union webite said, "Vanessa James/Morgan Cipres of France soared to victory in the Pairs event as competition wrapped up at the ISU Grand Prix of Figure Skating Final in Vancouver [CAN] on Saturday.
"China's Cheng Peng/Yang Jin claimed the silver medal and Russians Evgenia Tarasova/Vladimir Morozov settled for the bronze. It was the first Grand Prix Final medal for the French and the Chinese teams."
Vanessa James and Morgan Cipres, photo courtesy of the International Skating Union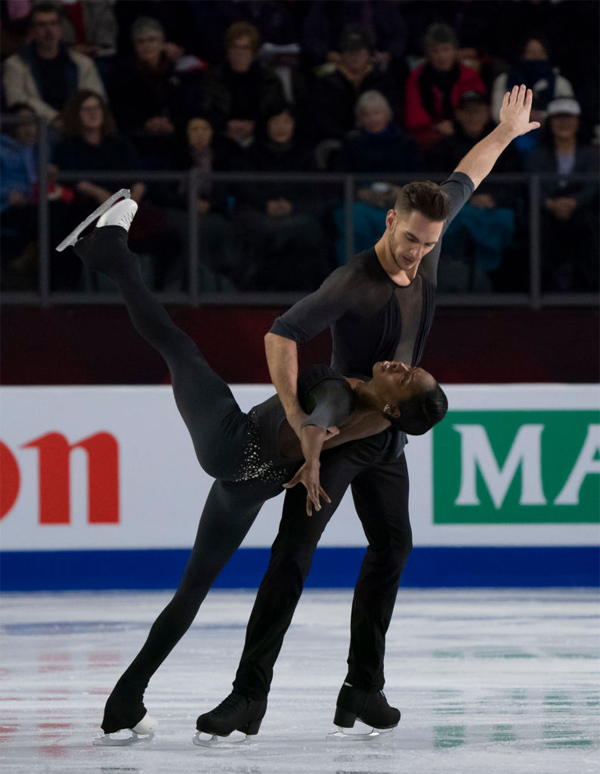 "James/Cipres turned in a mesmerizing performance to 'Wicked Game' and 'The Last Feeling', reeling off a triple twist, triple toe-double toe-double toe combination, triple Salchow, a throw triple flip and throw triple Salchow as well as spectacular lifts. The World bronze medalists improved their season's best with a score of 148.37 points and racked up 219.88 points overall.
"'I could not be happier than I am today. I feel like we've only been doing comebacks lately. It feels good. The score could be amazing and the experience could be amazing, but we really need to work on the short program. I'm very proud that after such a disappointment yesterday, that we could bring it strong home,' James said.

Read More About