[Updated] Minister of Public Works Lt/Col David Burch is holding a press conference this afternoon [Dec 13] which the Ministry said is to provide an update on 'high achieving individuals within the Mechanical and Electrical Engineering Training Program'. We will have additional coverage later on and in the meantime the live video is below.
Update: The live broadcast has concluded and the 18-minute replay is below
Update: Minister Burch said, "I am pleased to join Mr. Frank Ross of Aecon, the Chief Engineer of the Ministry of Public Works, Mr. Yves Lortie and of course our two shining stars Mr. Jamar Dill and Mr. Zeeko Johnston.
"Before getting to the specifics of today's conference – it is useful to highlight some of the steps that have brought us to this place.
"The Ministry of Public Works participates and supports our staff in a variety of educational and professional endeavors, such as the Basic Employee, Foreman and Superintendent Training Program (known as BeFAST).
"The BeFAST Program is now in its fifth year and has proven to be very successful. The Program objectives are to advance training, create career opportunities, and build new working relationships with peers and staff, ultimately creating a team that speaks the same language, resulting in providing better service to our internal and external customers.
"The Effective Team Member and Leading Effective Teams are the two core courses under BeFAST and they are delivered by the Bermuda College's Professional Adult Career Education Department (PACE). This year the ministry also offered the Certificate in Leadership and Management course which is a comprehensive course designed to give practicing first line managers a solid foundation in their formal development as a manager.
"I am pleased to report the success of 13 members of our staff, representing various areas within the ministry, who graduated from the program earlier this week.
"No one disputes the fact that our workforce is aging, therefore, our ministry is focused on succession planning to ensure we have sufficient employees trained and prepared to fill core and difficult-to-fill critical positions in the future.
Zeeko Johnstone [Mechanical Engineer], Yves Lortes [Department of Public Works Chief Engineer], Minister of Public Works, Lt. Col. David Burch, Frank Ross [Aecon Executive Advisor], Jamar Dill [Electrical Engineer].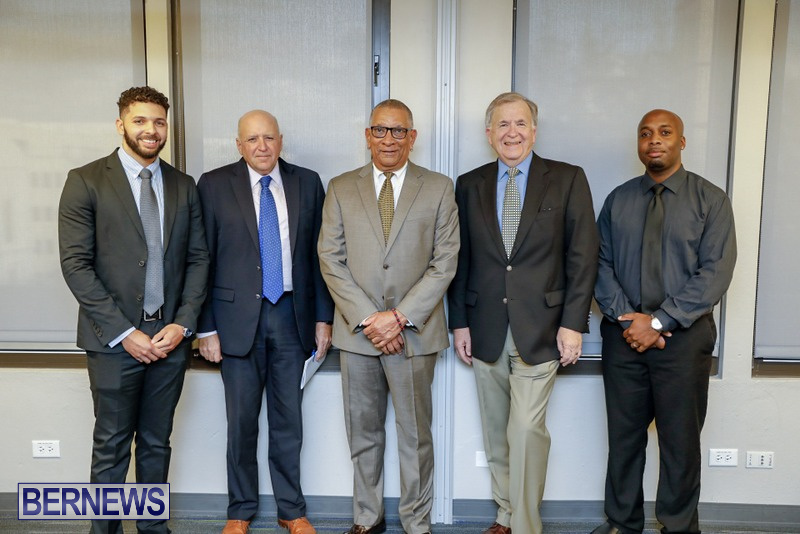 "The Ministry also has in place a Trainee Program in which five trainees are currently enrolled. This Program focuses on training Bermudians for professional and technical positions.
"Ricardo Graham-Ward and Jamar Dill who you've already heard about. The ministry also has three technical apprentices Justin Simmons, Derrica Saunders and Kenneth Pusha all mechanical apprentices at the Quarry Depot.
"The ministry also participates in the Government wide bursary scheme and we currently have four bursary students, one in Land Valuation, Ms. Andesha Busby who is presently studying for a Bachelor's Degree in Real Estate, Ms. Tabia Butterfield who is gaining some work experience before continuing her studies for a Bachelor's Degree in Civil Engineering, Mr. Kobe Richardson, a 2018 recipient who is currently completing his BSc in Building Construction Management Technology at Purdue University. He is a graduate of St. Johnsbury Academy and spent this past summer working on a project in Alexandria, Kentucky and finally Ms. Jodi Ming, who is also a 2018 Bursary recipient who will commence her studies for a MSc Real Estate Degree at the University College of Estate Management. She is a graduate of Warwick Academy and holds a Bachelor of Arts from London Metropolitan University and currently works as a Professional Services Associate with a local real estate firm.
"Today is also a day for other young Bermudians who may have an interest in the engineering field to be inspired by these two young men to also pursue their dreams. I encourage anyone interested in an engineering career to contact the ministry to explore ways that they too may follow in their footsteps.
"It's no secret that this Government is fully committed and engaged in supporting the educational and professional pursuits of young Bermudians. So I am particularly pleased that we have been able to organize this secondment – thanks in no small measure to the Chief Engineer, Mr. Lortie – who is a man on mission – determined to recruit and train young Bermudians – so thank you Bob.
"Special thanks to Aecon – for agreeing to host and guide them towards professional designation and I am most appreciative of Jamar & Zeeko's families, some of whom are with us today for supporting them in this effort – without you – this couldn't happen – so thank you too."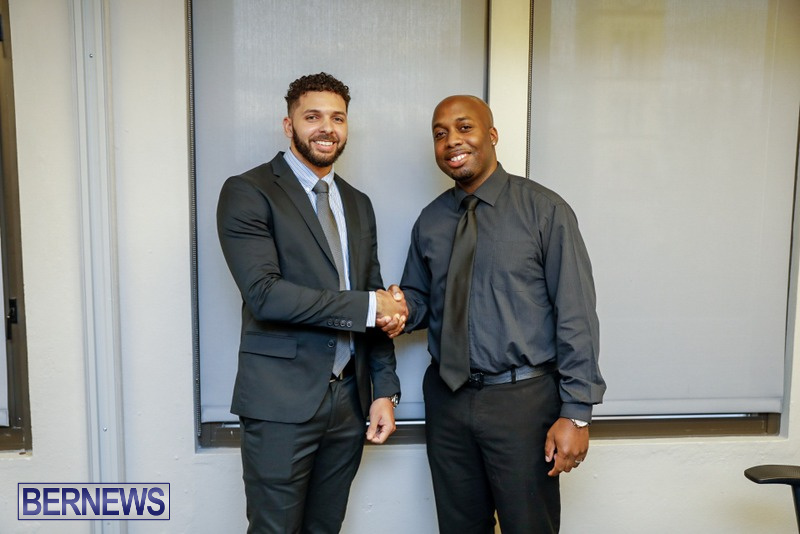 Frank Ross of Aecon said, "As Executive Director of Aecon International Construction, I am pleased to be the Executive Program Sponsor for the Bermuda-Aecon Internship Program.
"We are very pleased to welcome both Zeeko and Jamar to the intern program and I am confident that they will thoroughly enjoy and greatly benefit from this opportunity that the Government of Bermuda has presented to them.
"The objectives of our program are the following;
Expand industry knowledge
Building leadership skills
Technical skills development
Building a professional network
Evidencing Canadian Culture [and weather since they will spend the winter with us!]
"In addition to the time Zeeko and Jamar will spend with their sponsor companies, they will also participate in learning initiatives and events presented through our Aecon University programs such as presentation skills, time management, and situational leadership.
"Jamar, an electrical engineering graduate, will be working with Mulvey & Banani International, based in Toronto, who provide engineering services for multiple and related electrical and electronic systems for all types of new building construction and renovations. M&B has been working in Bermuda since 1997 on projects such as XL House, Waterloo House, Fairmont Hamilton Princess and is the lead electrical, IT and communications consultant on the new airport terminal project.
"Zeeko, a mechanical engineering graduate, will be working with H. H. Angus Associates Ltd, also based in Toronto, who specialize in designing mechanical systems across the full spectrum of the construction industry including the transportation sector, including the new airport terminal project, healthcare, mission critical data centers and power generation.
"Zeeko and Jamar will be an integral part of their respective engineering and design teams working under the direction of senior management providing comprehensive building engineering consultancy services. They will be directly involved in site surveys, technology reports, evaluation and selection of equipment, conceptual design and design development, engineering coordination, tender drawing and documents and project management.
"Aecon and Skyport remain committed to community involvement, skills development and social investment in Bermuda. With a focus on investing in youth programs such as the island's primary schools – East End Primary, Clearwater Middle School, St. George's Preparatory & St. David's Primary, along with youth-focused charities Big Brothers and Big Sisters, Mirrors, The Bermuda Sloop Foundation, Bermuda Institute of Ocean Sciences, Kids in Construction and X-Roads Warriors, we will continue to support Bermuda's youth. We are thrilled to be a part of this second cohort of interns."
Read More About