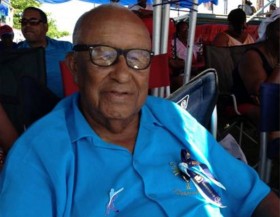 The community is mourning the passing of former St. George's Cricket Club Cup Match captain Leroy "Tubby" Richardson.
MP Renee Ming said, "We at the Progressive Labour Party extend our heartfelt condolences to the family and friends of the late Leroy [Tubby] Richardson.
"Mr Richardson, who at 97 years old, was the oldest surviving Cup Match Player, represented St George's Cricket Club from 1941 to 1955 in the Annual Cup Match Classic serving as captain from 1951 to 1955.
"His contributions to the SGCC and the wider St George's community were well known and he will be a tremendous miss.
"In fact, Mr Richardson was a frequent patron of Mama Angie's Coffee Shop in St George's where he had reserved seating. He was the only patron afforded this special gesture!
"We are saddened by this loss to our community, and our thoughts and prayers of comfort are with his family during this difficult time."
Minister of Labour, Community Affairs and Sports Lovitta Foggo said, "I would like to send my condolences to the friends and family of Mr. Leroy Richardson.
"He was a true gentleman – both on and off the cricket pitch. A well-known figure in St. George's, Mr. Richardson was the oldest surviving former Cup Match player – representing a golden era of cricket in Bermuda.
"His loss will be felt by the whole community – but perhaps most acutely by the cricket community and the St. George's community. He made his debut in the Cup Match Classic in 1941, at the age of 20, and it's incredible to think that – all these decades later – he is still a standard to which players are held when it comes to sportsmanship on the cricket pitch.
"I was lucky to have enjoyed a personal relationship with him; and up until recently I frequently had breakfast with him at Mama's Angie's in St. George's where he shared much of his sporting history with me.
"In fact, he was a treasure trove of historical knowledge and shared stories about things that I had never even heard about. One example that comes to mind is when he told me that he and my dad were on the original Colt's Cup Match team for St. George's; I never knew that. He will be a big miss."
Read More About