Auto Solutions has launched Bermuda's first self-serve car wash operated by an app. The '"Touch-4-Wash" app is now available for download in Bermuda and the app-activated car wash officially opens on Friday, February 15, 2019.
The car wash can be used by everyone and is not just limited to Auto Solutions customers. The self-serve car wash can also accommodate commercial fleets from light vans up to HA panel vans and discounts will be offered to large fleets, and companies are welcomed to call 279 5055 to discuss it.
The self-serve car wash is located behind Auto Solutions and the Rubis Gas Station on St. John's Road and will be open from Monday to Saturday from 8:00 a.m. to 8:00 p.m. and on Sundays from 10:00 a.m. to 4:00 p.m.
Users will first need to download and register on the easy-to-use phone app called "Touch-4-Wash" available via the Apple Store and Google Play for Android. Once installed the app will allow users to purchase a wash, share the app with friends to earn free credit and gain loyalty points towards free washes.
There are three pricing tiers for the automated car wash, starting at $19.95 for the 'Express Wash,' and going up to $29.95 for 'The Works.'
"Monthly membership packages start at $65 per month and offer significant savings. The top tier $95 per month package gives customers access to daily car washes [at a limit of 1 per day] and a complimentary vacuum per wash," Auto Solutions said.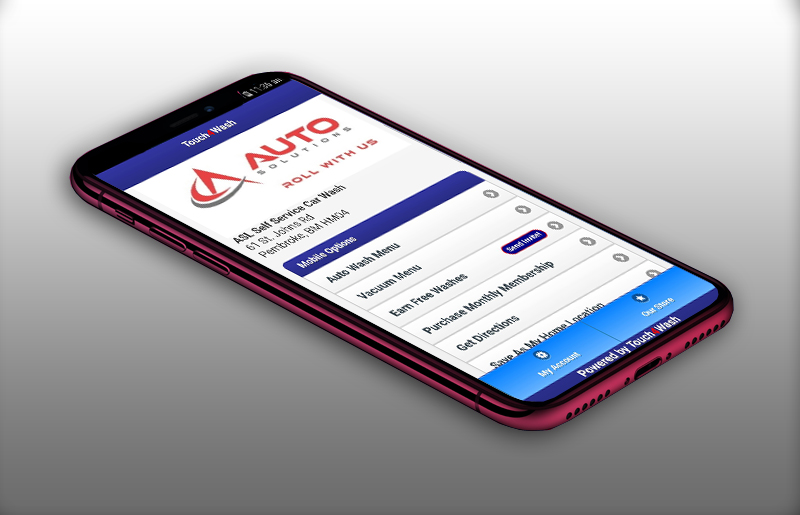 "The self-serve car wash is high tech and uses premium bio-degradable soaps. It also features 3D profiling technology to provide a custom wash for every vehicle depending on its shape, for a more efficient and safer wash. The closed-cell foam sponges achieve a deep clean while protecting the exterior of your vehicle.
"The car wash also uses rain water that is filtered so it does not leave any spot marks on vehicles as recycled water has been known to do. There is also a high-powered pressure wash system available to customers to free mud and debris from tires and rims before entering the automated car wash to ensure the most efficient clean possible. After a customer exits the automated car wash, vacuums are available at $4.95 for 4 minutes [or complimentary with membership]."
Glen Smith, Managing Director of Auto Solutions said, "We are excited to bring another option for car washing to Bermuda – one that's fast, easy to use and affordable. We recognized the need for our existing car wash to be self-serve and hope our customers will enjoy the convenience of it.
"The membership pricing of $95 per month for our top-level car wash package can't be beat. With this package, you could technically go through the car wash everyday [Monday – Sunday] which equates to just over $3.22 per car wash. At this pricing, there is no doubt in my mind that the Auto Solutions new self-serve, app-activated car wash is going to be very popular with those who like to keep their vehicle clean.
"Moreover, it has always been important for Auto Solutions to remain current in today's market so we are proud to be the first to bring the app-led car wash technology to Bermuda."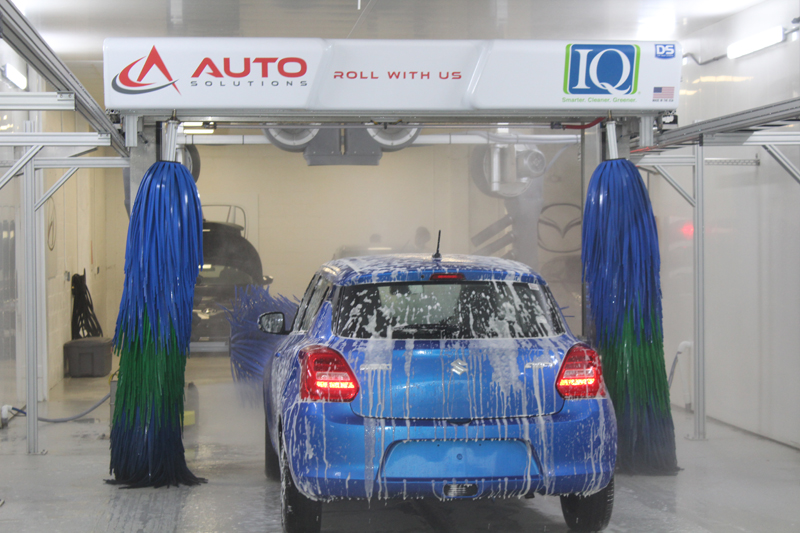 Peter Richold, Car Wash Manager, added, "The car wash is monitored by CCTV but will be manned by a member of our team, whenever it is open, to assist any customers if needed though we hope that for the most part it will be completely self-serve.
"We have also installed instructional signage to make the process as seamless as possible for our customer. It's as simple as downloading the app, following the instructions to purchase a wash and then driving your car through the car wash."
For more information on the Auto Solutions Self-Serve car wash please call 279-5070 or visit Auto Solutions on 61 St. John's Road, Pembroke.
Read More About
Category: All, Business, News, technology