It was an unusually busy time at King Edward VII Memorial Hospital earlier this week, but all for a good reason – as seven babies were born in only 24 hours.
"It was a brisk day in the labour and delivery rooms as seven babies were born within 24 hours," says Lisa Blyden, clinical manager of Maternity and Special Care Baby Unit.
Bermuda Hospitals Board Maternity Unit nurses are all trained in midwifery. Ms Blyden says although they were all busy, they knew exactly what to do and carried out their duties with the utmost professionalism, providing personalised care and advice to each mother.
Six of the seven mothers with their newborns: Pictured from left: Yuedi and Jackson, Kristen and Hayes, Gina and Glow, Vanessa and son, Brittany and Maci & Ouafae and Ryan.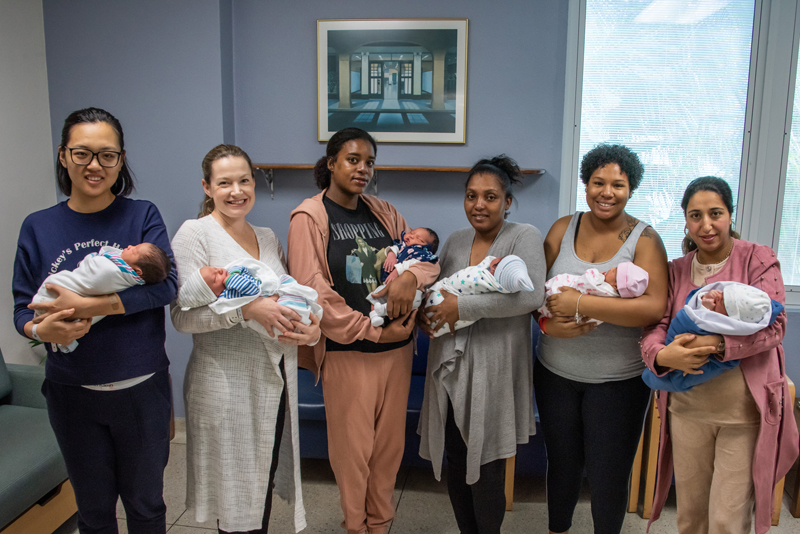 List of parents and babies born:
1. Gina Liburd and Wayne Wales, daughter Glow Gentle Wales, 11:04am 29 January 2019
2. Ouafae Hajjioui and Kevin Daley, son Ryan, 11:54am 29 January 2019
3. Lichel Tumulak and Mario Ferraro, son, 1:55pm 29 January 2019
4. Kristen and Daniel Heinlein, son Hayes Heinlein, 5:28pm 29 January 2019
5. Brittany Bean and Leon Weekes, daughter Maci Barstowe-Weekes, 6:39pm 29 January 2019
6. Yuedi Ding and Alvin Du, son Jackson Du, 11:41pm 29 January 2019
7. Vanessa and Michael Thompson, son [not yet named], 5:41am 30 January 2019
The BHB noted, "Seven babies born in a single day is not a Bermuda Hospitals Board record. The last time this happened was on 18 October 2017.
"There have been 14 times in recent history that eight births have been recorded in a single day, nine has been the maximum. Interestingly three of the four times that this took place were in 2009. It also took place in 2002."

Read More About