A new programme for the professional development of company directors is to be launched later this month, according to organizers.
The Bermuda branch of the Institute of Directors has organized four sessions in the IoD Certificate in Company Direction programme ranging from Finance for non-Finance Directors, Strategy for Directors and Leadership for Directors.
Rochelle Simons, branch Chairwoman, said: "There are increased demands and accountabilities being placed on directors and I would anticipate that we will see an uptick in registrations.
"Finance, in particular, is a subject that often concerns directors who do not have a background in accounting or financial matters. That trepidation can be significantly reduced with training that aims to support non-finance directors to better appreciate financial matters and gain confidence to participate fully in boardroom financial discussions."
Rochelle Simons and Neil Glass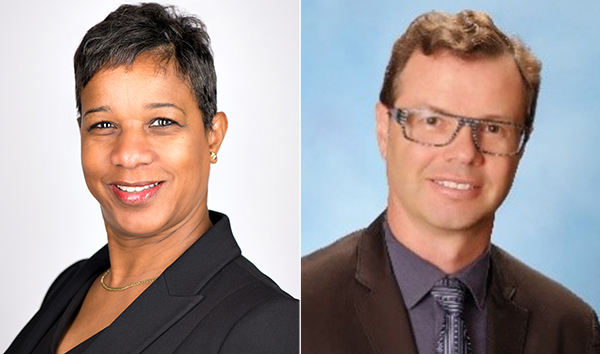 A spokesperson said, "The launch of the programme comes as the IoD has welcomed its newest Chartered Director – Neil Glass, a director with WW Management Limited.
"Mr Glass graduated from the University of Alberta in 1983 with a degree in Business and is a Member of the Chartered Professional Accountants of Bermuda, the Chartered Professional Accountants of Alberta and is a Chartered Director and Fellow of the Institute of Directors.
"He has worked in numerous roles in Bermuda's asset management industry since 1990 and currently serves as an independent director of numerous funds. From 2013 – 2016, he led the Bermuda Business Development Agency Asset Management Group, interfacing with senior members of the regulator, Government and fund industry as they worked together to renew Bermuda's asset management industry.
"Neil is the Asset Management Industry Champion with Board Apprentice Bermuda. He is a Founding Member of Wishing Step Pictures Ltd., a film production company formed to produce socially-conscious films as a driving force for social change, and a Founding Member of The Abolish Foundation, which combats modern day slavery, human rights abuses, gender inequality and environmental destruction. He was a Co-founder of The Bermuda International Film Festival."
Mr. Glass said: "With so many different challenges facing directors in today's rapidly changing marketplace, I cannot stress enough the importance of the types of training the IoD offers. Directors must keep abreast of everything that affects them, their business and those who rely on that business, including ever increasing compliance and fiduciary obligations and expectations."
Mrs Simons added: "From the outset, Neil was committed to the goal of Chartered Director. Neil has been a great student in the entire programme even with his many years of experience, and a real champion of the Branch. The rigors associated with preparing the Chartered Director application, and the formal submission while a bit intense, did not deter him, and he has been duly rewarded."
The spokesperson said, "Completion of the four modules and their accompanying examinations will reward delegates with the IoD Certificate in Company Direction designation, level 1 of the Chartered Director programme. Successful delegates will be able to use the initials CertIoD following their name.
"The training programme in full is:
February 28, March 1 and 2: Finance for Non-Finance Directors
May 2 and 3: Leadership for Directors
October 14 and 15: Role of the Director and the Board [Governance – recommended for all directors]
October 16, 17 and 18: Strategy for Directors
October 21, 22 and 23: Diploma in Company Direction – available only to CICD holders
"For more information email chair.bermuda@iod.net or call 336 2447."
Read More About