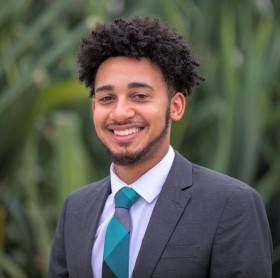 The Commonwealth Secretariat announced that Bermuda's Ryan Robinson Perinchief has been shortlisted as a Regional Finalist, one of four representing the Caribbean & Canada for the Commonwealth Youth Awards for Excellence in Development Work 2019.
The Awards are considered quite prestigious and recognize and celebrate the achievements of people aged 15 to 29 whose innovative projects are making a significant contribution to their communities and driving change in the implementation of the Sustainable Development Goals.
This year, the Awards attracted five hundred nominations from 45 countries. Those shortlisted will be invited to attend the Commonwealth Youth Awards ceremony in London on 13 March 2019 at the Commonwealth Secretariat Headquarters.
One exceptional individual will be chosen as the Commonwealth Young Person of the Year 2019. In addition to a financial grant to scale up their development work, finalists will each be awarded a trophy and certificate.
This is the first time a Bermudian has been selected, as the Commonwealth has confirmed that there has never been a regional finalist or regional winner from Bermuda in the past for the Commonwealth Youth Awards for Excellence in Development Work.
Ryan Robinson Perinchief's nomination bio stated, "Ryan Robinson Perinchief is the founder of Future Leaders; an organisation which connects the public and private sector to provide education and opportunities to empower young people through study, service, mentorship and skills training.
"In just one year, their 'Future Leaders Programme' has educated nearly 40 young students to take action on subjects ranging from gang violence to poverty, inequality and social entrepreneurship; partnered with over 15 community organisations in Bermuda, the USA and the Caribbean, and has been by endorsed the Government of Bermuda.
"Ryan founded and continues to direct the programme whilst simultaneously studying towards a law degree at Durham University in the UK."
The next stage of adjudication requires finalists to submit a brief bio along with a video highlighting their organization and development work, and a one page summary of its impact in their community.
Upon request by the Commonwealth, and to commemorate the event, Future Leaders Bermuda has released the following short film, highlighting the work of the Future Leaders Programme.
The finalists were chosen by a Pan-Commonwealth adjudication panel of judges, convened by the Commonwealth Secretariat. This included the High Commissioners for Barbados, Namibia and Papua New Guinea, and representatives from the High Commission of Bangladesh, the Commonwealth Foundation and the Commonwealth Youth Council.
Read More About