This Friday, March 8th is International Women's Day [IWD] and for the 4th year in a row, IWD will take place on the steps of City Hall.
A spokesperson said, "Beginning at 12:15 p.m. the Athletic Club will pump up the volume with a bit of Zumba to engage the audience and has become a fan favorite for students in attendance. Participation from everyone is welcome.
"At 12:30 p.m. our emcee, Patrina O'Connor-Paynter, "Powergirl Trina", will introduce international, local speakers and entertainers. This year's theme, #balanceforbetter, is all about a gender balanced world.
"The hour long celebration will allow several speakers to share their short personal perspectives on the International Woman's Day movement including International Broadway veteran and film actress, Kathy Kates, currently acting in "Orange is the New Black".
Committee Members Wendy Percy, Laura Knox, Crystal Torak, Katarina Hoskins and Morgan Simons [missing Cordelia Davis, Elaine Richardson]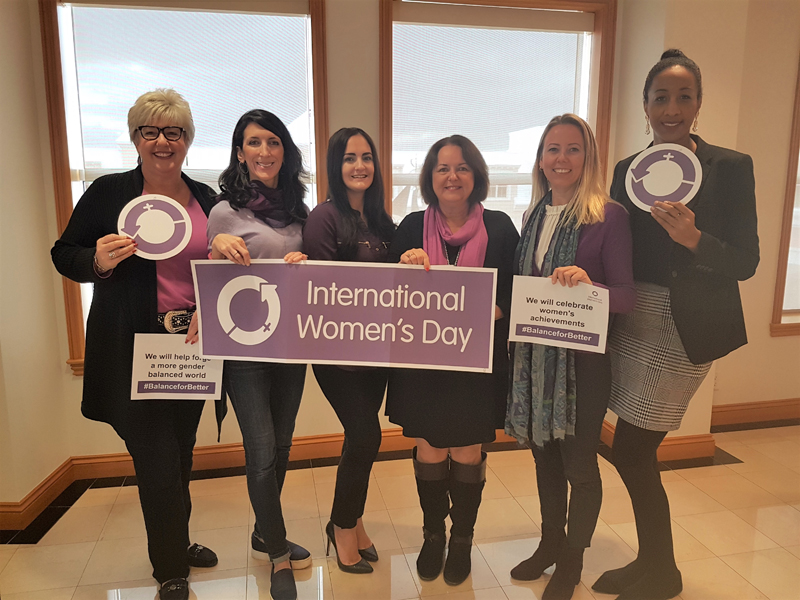 "With statistics that illustrate women globally only make up 23% of members in parliament, women on average earn 25-40% less than men, and 60% of people globally who can't read are women – the Bermuda IWD's Committee is committed to the call for action to push forward and collaborate for gender parity.
"The celebration is generously sponsored by EY, PwC Bermuda, Willis Towers Watson and WQ."
"At EY, we are committed to creating an inclusive environment and providing outstanding opportunities for our people to grow and develop in their careers. Our support of women professionals at EY and in the [re]insurance industry is a fundamental part of that ambition with a focus on building a better working world," said David Brown, Senior Partner of EY Bermuda and Insurance Leader for the EY Region of The Bahamas, Bermuda, British Virgin Islands and Cayman Islands.
Marisa Savage, Partner, PwC Bermuda, said: "At PwC we believe gender equality is an economic and social imperative, or put simply, it is the right thing to do. International Women's Day 2019 marks another year of continued steps to improve the representation and welfare of women in the world of work, and our firm is proud to sponsor and take part in this important event in Bermuda. The theme this year is #balanceforbetter, encouraging both men and women to take part in striving for gender equality by recognizing where balance is lacking and celebrating where it has been achieved."
The spokesperson said, "Participants are encouraged to wear purple, a sign of the woman's suffragettes' movement and in more recent years a sign of justice and gender equality. All schools are encouraged to attend and raise their placards.
"Volunteers from the Women's Resource Centre will be selling pins and bracelets to support IWD."
Read More About