The Bermuda Professional Squash Association [PSA] Open 2019 got underway at the Bermuda Squash Racquets Association Club in Devonshire.
Bermuda's current Professional Tour players Noah Browne and Micah Franklin both advanced, but five other players flying the flag would go down.
In the Men's Division Browne defeated Canadian Cory McCartney 11-3, 11-6, 11-4, while Franklin defeated his American opponent David Cromwell 11-4, 11-3, 11-3, but former Professional and Club President Nichols Kyme went down in straight games 11-2, 11-6, 11-8 to Lyell Fuller from England.
On the Ladies Side, number one seed Nicole Bunyan from Canada defeated Bermuda's National Champion Rachel Barnes in straight games 11-6, 11-6, 11-2. Nessrine Ariffin from Malaysia defeated Jayne Craig 11-6, 11-2, 11-1, Guyana's Mary Fung-A-Fat defeated Alex Furtado 11-1, 11-5, 11-4 and England's Anna Kimberley defeated Juliette Ferrari-McComb 11-1, 11-4, 11-2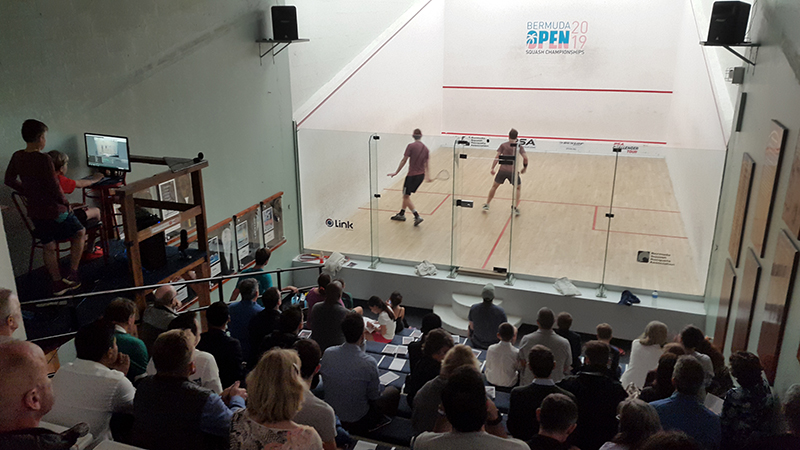 Men's First Round
Chris Binnie [JAM] beat Tom Walsh [ENG] 11-9, 5-11, 13-11, 11-3
Leandro Romiglio [ARG] beat Babatunde Ajabe [NGR] 11-6, 6-11, 12-10, 11-3
Noah Browne [BER] beat Cory McCartney [CAN] 11-3, 11-6, 11-4
Jaymie Haycocks [ENG] beat Adrian Leanza [USA] 11-7, 11-9, 11-8
Nick Sachvie [CAN] beat Thomas Calvert [AUS] 11-2, 11-6, 11-3
Micah Franklin [BER] beat David Cromwell [USA] 11-4, 11-3, 11-3
Andrew Schnell [CAN] beat Tomotaka Endo [JAP] 11-6, 11-6, 11-6
Lyell Fuller [ENG] beat Nicholas Kyme [BER] 11-2, 11-6, 11-8
Women's First Round
Nicole Bunyan [CAN] beat Rachel Barnes [BER] 11-6, 11-6, 11-2
Nessrine Ariffin [MAS] beat Jayne Craig [BER] 11-6, 11-2, 11-1
Mary Fung-A-Fat [GUY] beat Alex Furtado[BER] 11-1, 11-5, 11-4
Anna Kimberley [ENG] beat Juliette Ferrari-McComb 11-1, 11-4, 11-2
Catalina Pelaez [COL] beat Andrea Malinova [SVK] 11-6, 11-0, 11-7
Marina De Juan Gallach [ESP] beat Jasmin Ballman [SUI] 9-11, 11-3, 11-8, 11-4
Marina Stefanoni [USA] beat Arisha Jahan Khan [USA] 11-6, 11-1, 11-7
Julia Le Coq [FRA] beat Melina Turk [CAN] W/O

Read More About