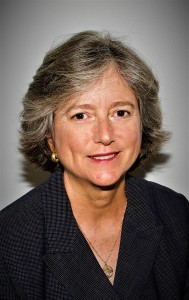 This week [April 28 – May 4] marks the International Coach Federation's [ICF] Coaching Week and comes on the heels of the launch of the new ICF Chapter for the Caribbean region, which includes Bermuda, with local coach Pamela Barit Nolan [pictured left] appointed as vice president for the region.
A spokesperson said, "ICF is the leading global organization of professional personal and business coaches in 145 nations and offers the premier independent and internationally recognized coach credentialing program, a process that normally takes more than three years."
Mrs Barit Nolan said, "I am excited to be part of this initiative that brings together professional standards and a network for both people interested in becoming a coach and also for those seeking the services of a qualified and accredited coach. Coaching is a powerful tool within organisations and for individuals.
"We hope that this Chapter will enable people to more easily access the services of professionally qualified coaches. I am grateful that we have joined together with other islands to make this Chapter a reality. Alone we didn't have the required numbers, but together we have been successful, and we look forward to being a valuable resource regionally and globally."
"In January, the ICF granted permission for the Caribbean to form its Chapter. The board members include Richard Ramdial, President [Trinidad and Tobago]; Pamela Barit Nolan, Vice President [Bermuda], Helen Carrington, Secretary/Treasurer [Trinidad and Tobago], Natalie Jackman Ible, Director [Trinidad and Tobago] and Dr. Angela Ramsay, Director [Jamaica]."
ICF Caribbean President, Richard Ramdial, said, "Our mission is to harness the genius of society."
"Mr Ramdial added that the region is only now beginning to discover the tremendous power of coaching as a means for individual and social change at all levels.
"There are currently 30 members based in 10 member countries and two non-member countries. Bermuda currently has four members, which include Mrs Barit Nolan, Norma Nielsen, Jenni Paradine-Paul and Vaughn Mosher."
Ms Nielsen, the island's first ICF credentialed coach, said, "The launch of this regional chapter is very exciting. I celebrate the combined efforts of the team that worked tirelessly to form ICF Caribbean and am hopeful that Bermuda-based businesses and the community will be encouraged to use the resources offered by this professional association."
"Many successful leaders, including those leading Fortune 500 companies, have coaches. It is impossible for anyone to see every issue perceptively, and that is one of the reasons why great coaches steer leaders to success. Of course, the quality of the coach matters, and this is why the ICF has set very clear standards for coaching.
"ICF is active in representing all facets of the professional coaching industry including Executive, Life Vision and Enhancement, Leadership, Team, Relationship, and Career Coaching. ICF defines coaching as partnering with clients in a thought-provoking and creative process that inspires them to maximize their personal and professional potential.
"Coaching is a distinct service that differs greatly from therapy. Individuals who engage in a coaching relationship can expect to experience fresh perspectives on personal challenges and opportunities. They will make better choices, build relationships, and experience increased confidence in carrying out their chosen work and life roles.
"The Chapter's focus for 2019-2021 will be to build strategic partnerships with business and industry and begin a pipeline of virtual and local offerings designed to assist members in their certification, accreditation and ongoing professional development.
"ICF Caribbean Chapter membership is open to any current ICF member in good standing. The Chapter is exploring the possibility of affiliate membership for those who share the Chapter's interest and may be working towards their ICF membership requirements. ICF Members that select the ICF Caribbean Chapter as their regional chapter will be invited to join the member's private Facebook page."
For more information, visit the Facebook page or website, email pamela@transformbda.com, or call 441-333-9996.

Read More About