The Bermuda Civil Aviation Authority [BCAA] said they are "well prepared for their safety oversight audit conducted by the International Civil Aviation Organization [ICAO], a UN specialised agency established to manage the administration and governance of the Convention on International Civil Aviation."
The official opening meeting took place on Monday, May 6th with attendance and remarks from Governor John Rankin, Minister of Tourism and Transport Zane DeSilva, BCAA Board of Directors Deputy Chairperson Herman Tucker and BCAA Director General Thomas Dunstan.
The safety audit will continue at BCAA offices until Thursday, May 16th.
Herman Tucker [BCAA Board of Directors], Minister Zane DeSilva, Frédéric Prillieux [ICAO], Louis Opoku [ICAO], Governor John Rankin, John Glavind [ICAO] and Thomas Dunstan [BCAA]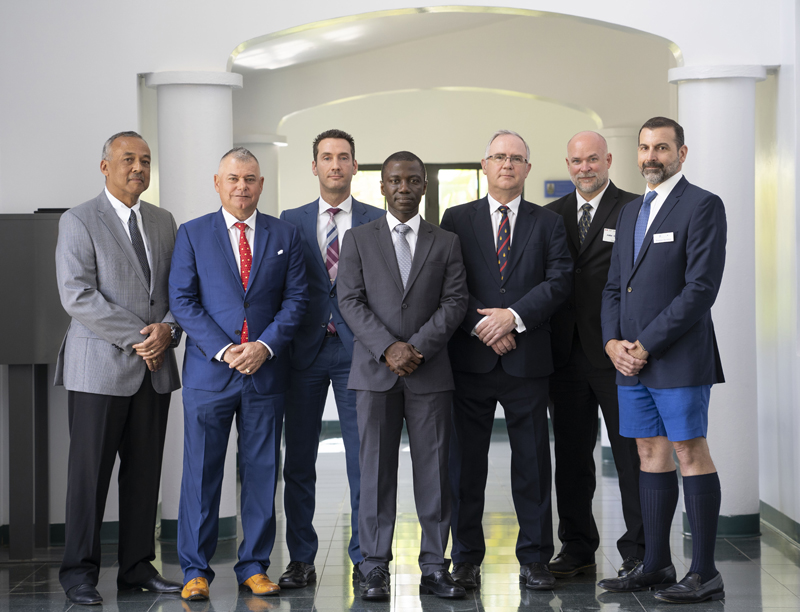 Minister of Tourism and Transport Zane DeSilva said, "I thank the ICAO Team for coming to Bermuda and giving us the opportunity to demonstrate to the world aviation community, the effort we put into ensuring our regulatory oversight is to the highest standards."
ICAO's most fundamental strategic objective is to improve the safety of the global air transport system. The Universal Safety Oversight Audit Programme [USOAP] promotes global aviation safety through auditing Contracting States on a regular basis, to determine the State's capability for safety oversight by assessing the effective implementation of the critical elements of a safety oversight system and the status of the States' implementation of safety-relevant ICAO Standards and Recommended Practices, associated procedures, guidance material and safety-related practices.
BCAA's Director General, Thomas Dunstan, commented, "Bermuda has built a solid reputation internationally for being safe and well-regulated. With the help of regulation bodies, such as ICAO, we continue to ensure that Bermuda maintains the highest safety standards.
"The outcome of this audit is extremely important to the Authority and to Bermuda and our team has been working very hard to prepare for this audit for the last 10 months."
Safety Oversight Advisor, Karolyn Darrell-Burgess, added, 'Everyone at BCAA has had a role to play preparing for the ICAO audit and it has been an amazing experience watching it all come together. I couldn't have asked for a better team."
The BCAA is responsible for the regulation and safety oversight of aviation in Bermuda and is in full compliance with the standards and recommended practices of ICAO. The scope of this audit includes: primary aviation legislation and specific operating regulations [LEG], civil aviation organisation [ORG], personnel licensing and training [PEL], aircraft operations [OPS] and airworthiness of aircraft [AIR].
Read More About
Category: All