One of the stars of the popular UK TV series Dragons' Den met with some of Bermuda's budding new businesses, saying the attributes of a good entrepreneur are "self-confidence and good self-esteem".
The Institute of Directors, Bermuda branch, along with KPMG, recently organized a fireside chat and question and answer session with Jenny Campbell at the Bermuda Underwater and Exploration Institute for invited guests, IoD members as well as the first cohort of Ignite Bermuda.
IoD Bermuda chair, Rochelle Simons, said: "I have known Jenny for some years and the Branch thought we would invite her for a fireside chat and at the same time provide an opportunity for Ignite to present its platform to the membership.
Rochelle Simons, chair of the IoD Bermuda branch is in the centre in red dress and stripy jacket and the left is Jenny Campbell. Far left is Sean Reel. They are with members of the Ignite Bermuda cohort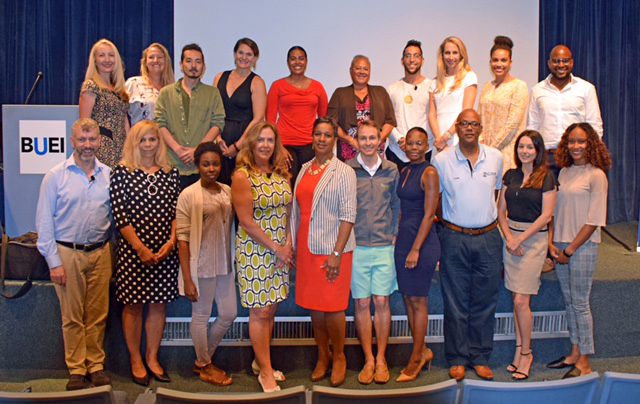 "We hope that Branch members will be inspired to support the Ignite initiative as mentors and or sponsors, and who knows, the event may even encourage members to dust off their business plans.
"We thought 'wouldn't it be great to have members of the first Ignite cohort to meet our directors' and at the same time get some very good advice from Jenny.
"We had a great audience turnout. Ignite cohort members made most of the networking reception making their 60 second pitch to IoD members. The atmosphere was a buzz, business cards were exchanged, the environment was very inspiring."
During the question and answer session, Ms Campbell told the audience about the need to be careful about who money came from. "Think very carefully," she said. "If you get your first funding wrong, you will scupper investors coming in behind.
"A lot of businesses are born from scrimping and saving and not borrowing any money. There is a balance to be made between jumping straight in and asking for 'X' amount."
On good entrepreneurial attributes, she added: "Having good self-confidence and good self-esteem. You also need to accept your weaknesses, build on your strengths and put people around you who can help with those weaknesses."
Sean Reel, recently appointed Executive Director of Ignite Bermuda, said: "The entrepreneurial spirit in Bermuda is truly impressive.
"Being connected to the IoD network is a critical part of creating the right ecosystem for them. I have had the pleasure of working with our first local cohort and seeing the growth just through Ignite's boot camp programme makes me excited for their future."
Read More About