The Bermuda community has made it possible for a father and daughter team to return to racing marathons and triathlons, after a very successful fundraising effort that will cover the cost of their new bike.
In just a few days, residents and companies in Bermuda have contributed to the cause, exceeding the target of GBP 14,000 [$17,837] for a replacement bike.
The father and daughter team from the UK known as Team Ladybugs, competed in this year's MS Amlin World Triathlon Bermuda but could not finish the race when they crashed out, resulting in their special racing bike being written off.
13-year-old Chloe Couture, who has been severely disabled with Cerebral Palsy all her life, beams with happiness and is full of life when her father Stephan tows her on his custom-built bike, with her in a special racing wheelchair behind.
Team Ladybugs had won the hearts of Bermudians even before the race began, as they proudly showed their bike and talked about their racing ambitions. They were fulfilling their mission to race in every one of the eight ITU World Triathlon Series races.
They competed in 72 events in 2018 and have already completed nine events so far this year including the Manchester Marathon with a time of 4hr 35m 34s. They say they do it for the love of racing and also to spread their message that "disabilities don't need to have boundaries".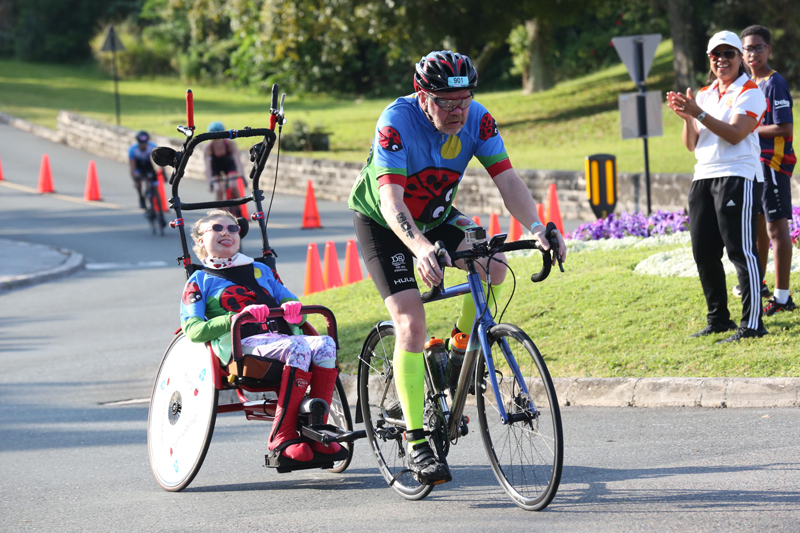 Since the crash, the Bermuda community showed an outpouring of support with people and organisations asking how they could donate toward a new bike and wheelchair to get Chloe back on the road and racing.
A GoFundMe page was launched on Monday of this week and by Wednesday afternoon they had exceeded their target of GBP 14,000, raising a total of GBP 14,684.
Comments of support on the fundraising page from other athletes, spectators and companies included:
"I met Stephan at the bottom of Corkscrew Hill two days before the Bermuda triathlon after reading all about him and Chloe. Absolutely gutted by what happened. Let's get them back on the road as soon as possible."
"Seeing the Joy on Chloe's face when she was out and about was so infectious she spread her joy around the city of Hamilton. Let's get you both back out on the road soon."
"What a beautiful family, pure love at its finest! Bless you and please continue to amaze us and inspire the world. You are an incredible young lady Miss Chloe, keep on Shining bright! You go girl! :]"
"I was so inspired by your story in the lead up to the triathlon and cheered you on as you rode up Corkscrew Hill. I hope you come back next year with your new racing chair!"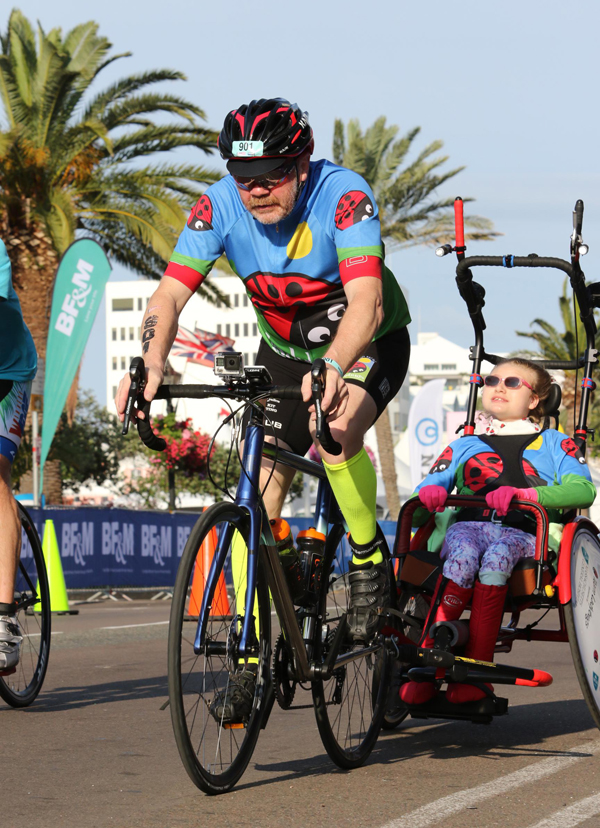 Generous donations from MS Amin Bermuda and the Green family also helped them reach their target sooner.
Stephan Couture said the family is so grateful, "A huge thank you, to Bermuda."
He said, "As Chloe is fond of saying "wow", how can we possibly thank the people of Bermuda enough for all they have done. Not only have they been so generous in their words of support, but also in less than a week they have achieved the target needed to replace Chloe's racing equipment."
"Everything is on order and we are hoping to have it all ready to be able to take part in the next ITU World Triathlon Series race in Leeds in June."
"We loved Bermuda, we loved the warmth, generosity and friendliness of everyone we met. Thank you from all of us seems so little to say but it is said with truly thankful hearts. We hope we will have the opportunity to show you all in person the new kit in action as we hope to return next year to take part in the ITU World Triathlon Bermuda 2020."
"Chloe is asking every day to go out in DD1 and soon we will be able to give her the ability to go out in her new chair DD2 [B], Daddy, Daughter 2 [Bermuda]. WOW! Thank you all again."
Team Ladybugs Bermuda race effort was sponsored by Massachusetts General Hospital, Hamilton Princess Hotel and British Airways.
Team Ladybugs mission is to raise awareness for severely disabled people so that they can race in events safely with the right equipment, to experience the excitement of participation.
They help other families take part in events and they personally fund all of their equipment. They receive no funding from national sporting bodies because of their very specialised needs. They are driven by knowing that they can make a difference in Chloe's and other disabled people's lives.

Read More About