A weekly entertainment event at Dockyard promises to be even bigger and better, the organisers said, explaining that they plan to build on the success of last year.
They are appealing for vendors to get in touch if they want to be part of the 2019 Destination Dockyard Summer Series – which will be a mix of live acts, DJs, fun entertainment, arts and crafts and food.
The event was resurrected last year by the West End Development Corporation which partnered with PinkSand Entertainment and the Bermuda Tourism Authority to stage the event throughout the summer.
Jonathan Tankard, of PinkSand, said: "We had very positive feedback from last year and we have come up with a lot of exciting updates for this season. We cannot say what they are yet, but I think people will be very excited when they find out."
He added: "We had a lot of different vendors last year and we want to hear from people who want to take part in 2019.
"We are looking for a wide range of things like food, Bermudian products, local arts and crafts, sporting or dance clubs that would like to perform or do demonstrations and performance artists who are interested in taking part."
Stephanie Rodill, WEDCO's Marketing and Events Manager, said: "We want to build on the success of 2018 to ensure that we are continually providing an enhanced, improved and unique Dockyard experience for both visitors and island residents.
"It's also a chance to highlight local entertainment and performers as well as uniquely Bermudian products, entrepreneurs and artists. Bermudians are talented and this is the perfect platform to showcase this talent to our visitors."
If you are interested in being a vendor, you can apply here. For more information people can contact PinkSand on info@pinksandentertainement.com.
Destination Dockyard starts on July 1 and finishes on August 26 – every Monday night from 6.30pm to 9.30pm on the North Lawn in the Royal Naval Dockyard.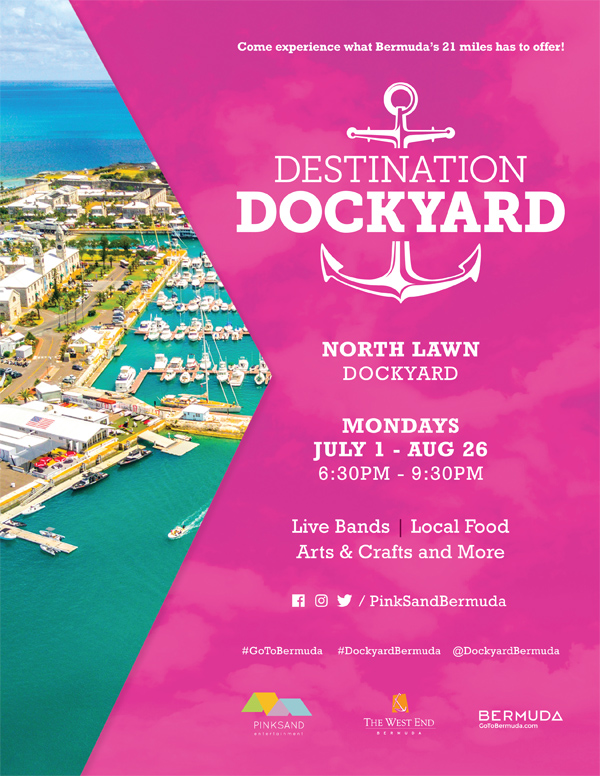 Read More About
Category: All, Business, Entertainment