Bermuda Rugby had an eventful Bermuda Day weekend while the under-19 and under-15 squads visited Toronto, Canada in a warm-up tour designed to prepare the teams for the upcoming Rugby Americas North tournament in Barbados this July.
The two teams celebrated Bermuda Day on Friday, May 24th by facing teams at Trinity College School as the teams competed in their annual tournament for the Devrae Noel-Simmons Cup, with Bermuda defending their 2018 success in the yearly contest.
Bermuda squad with this year's TCS team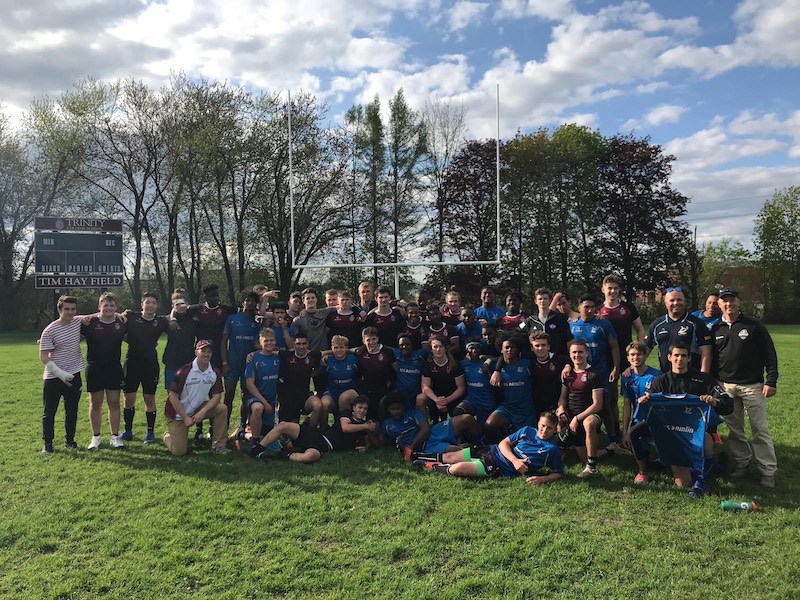 The cup honours Mr. Noel-Simmons, one of Bermuda's coaches, who passed away five years ago and made a tremendous impact on Bermuda's youth, both on and off the rugby pitch.
In the first game of the afternoon, the under-19s took on very strong opposition and the battle was hard fought, with Tyler Kendall [Teachers RFC], Ja'kee Simons [Berkeley] and Isaiah Rickards [Mariners RFC] all scoring tries, and Ja'kee also scoring two kicks. Despite their best efforts, the Bermuda side were unable to safeguard their title as champions, losing 35-19. Tyler Kendall was reported as Man of the Match.
In the second game of the afternoon, the under-15s faced less than challenging opposition from the Trinity side. Bermuda overwhelmed their rivals, winning with a massive 72-10. Try scorers included Man of the Match Khabir Dill [3], Faizon Augustus [2], Jayvin Iris [2] and Shawn Bremar [2], with William Nokes clearing the posts with seven kicks.
Not yet done, the two teams then faced challenges from the youth squads of the Toronto Saracens while under heavy rain conditions on Saturday, May 25th. Both squads put in a great effort, but both, unfortunately, also suffered narrow defeats, with the under-15s losing 12-0 and the under-19s 22-7. The sole try by the Bermuda side was scored by Miguel Postlethwaite [CedarBridge], with Ja'kee Simons scoring the conversion.
"The guys had another close loss today," explained coach Dan Roberts and the end of day two, "but the heart and resilience shown by the team made me incredibly proud. This is the best group I've had the pleasure of taking on tour yet. There is no question, these have been great team performances against quality opposition and the perfect test in our preparations for RAN."

Read More About