More than 20 soldiers from the British Army's elite 24 Commando Royal Engineers are to spend a week helping to hone the disaster relief skills of the Royal Bermuda Regiment in the run-up to hurricane season.
A spokesperson said, "The UK soldiers will work with the RBR to share expertise and experience in humanitarian and disaster relief [HADR] before they join the Royal Fleet Auxiliary ship Mounts Bay when it docks in Bermuda next week.
"RFA Mounts Bay, a near-600ft logistics vessel, is scheduled to start a six-month deployment in the Caribbean region to provide rapid assistance in the event of hurricane strikes on UK Overseas Territories. Hurricane season runs from the start of June until the end of November."
Captain Tom Booth of 24 Cdo RE, which provides engineering support for the Royal Marines 3 Commando Brigade, said the visit was arranged after RBR Sergeant Major Pete Ramm met soldiers from the unit at a planning meeting for this summer's Exercise Tradewinds, a multi-national disaster relief exercise based in the Dominican Republic and St Vincent & the Grenadines.
Captain Tom Booth, 24 Cdo RE, RBR CO Lieutenant-Colonel David Curley, RBR Captain Gordon Emmerson and Staff Sergeant Mohan Thapa of 24 Cdo RE, after inspecting the RBR's ready-to-go hurricane relief trailers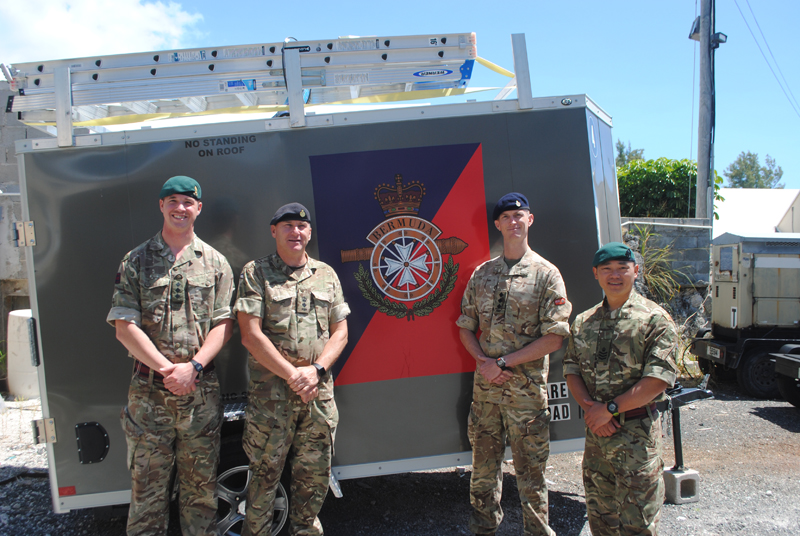 Capt. Booth, 30, from Harrogate, Yorkshire, added: "The RBR seems like a very professional unit and takes its role very seriously, which is very promising.
"What we can do is give them a different look at how to do things – the RBR has far more experience than us in hurricanes, but we have a different skill set and it's always good to exchange knowledge."
"We were extremely keen to do it because we have HADR capabilities that we're constantly developing and Pete was very keen to get the best training for the RBR.
"We have a wide skill set, from building bridges, demolishing bridges, laying mines, clearing mines, construction and water supply, which makes us ideally suited for the HADR role."
RFA Mounts Bay will also transport all the RBR equipment needed for Exercise Tradewinds, including trucks, to the Caribbean at no cost to Bermuda.
The 21 soldiers, who arrived on Friday, will work with the RBR's HADR specialists in B Company.
RBR Private Va'shonte Wilson, 23, from St George's Parish, said he looked forward to working with the British soldiers.
Sapper Andre Thomas-Lyken,19, from London, L/Cpl Matthew Hemmings, 29, from Newport, South Wales, and Sapper John-Henry Rees, 35, from Hull at the RBR's Warwick Camp headquarters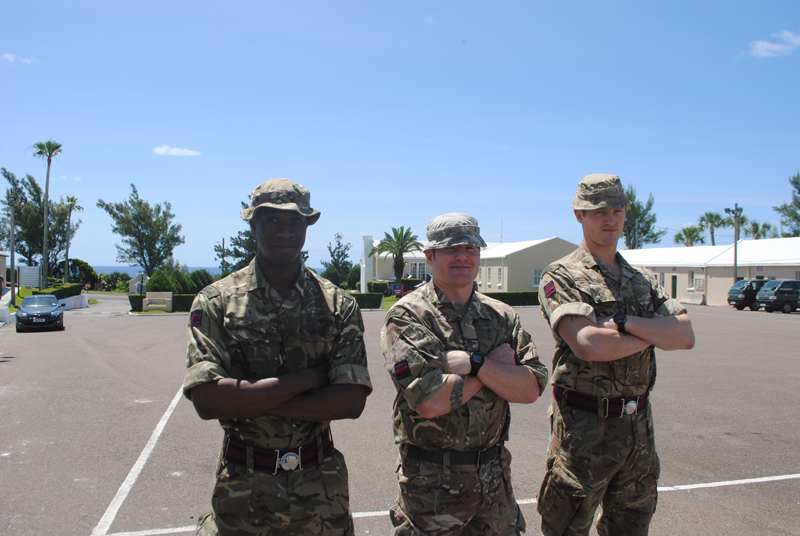 He added: "I think there's a lot we can learn from them and we can help them with hot weather conditions. We're more used to a tropical environment, as well as hurricanes."
Soldiers from the Regiment and 24 Cdo RE worked together in Operation Ruman, the 2017 relief effort in the Turks & Caicos Islands after they were devastated by Category 5 Hurricanes Irma and Maria.
Captain Gordon Emmerson, 36, Commandant of the Junior Leaders programme, who will join RFA Mounts Bay for five weeks as the RBR's liaison officer, said: "I'm very much looking forward to it.
"It's a great opportunity for growth and development for me and for enhancement of the skills and experience of the RBR.
"At the end of this, we will be better equipped and with more knowledge, which we can pass on to our soldiers in the future to prepare us for HADR operations at home and overseas."
24 Cdo RE Staff Sergeant Mohan Thapa, 40, from Devon, said he and the rest of the contingent were delighted to be in Bermuda.
The former Royal Gurkha Rifles engineer, who transferred to the Commandos in 2010 and is a veteran of Afghanistan, added: "We were told when you wear your uniform here, you're welcomed.
RBR Major Dwight Robinson, the Officer Commanding B Company and Director of Music, talks to RBR and 24 Cdo RE soldiers about the RBR's disaster relief capabilities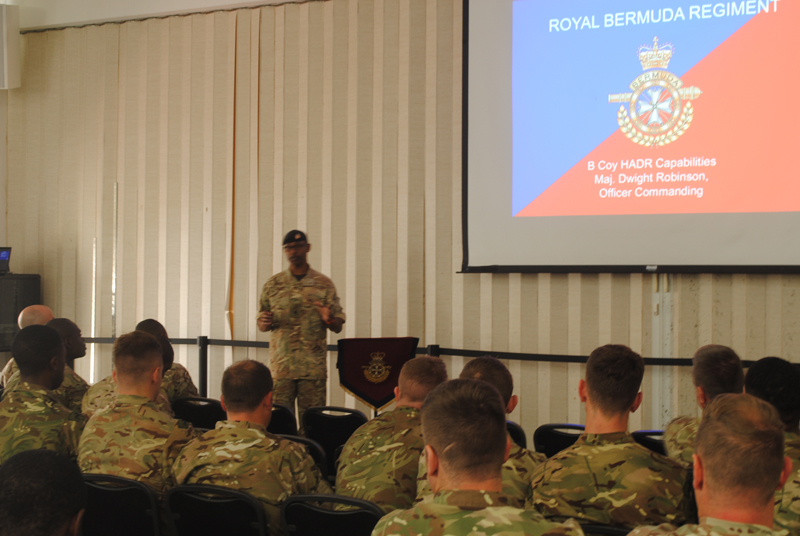 "We are over the moon to be working with the RBR – for 70 per cent of our soldiers, it's their first time in the Caribbean region.
"We understand what the RBR is and what they proved they could do during Operation Ruman. I believe we will definitely work well with them and help them out with HADR capabilities."
Lance Corporal Matthew Hemmings, 29, from Newport, South Wales, said: "It's a beautiful island – very picturesque. I'm looking forward to working with the RBR and hoping to swap some badges."
He added: "The RBR is obviously more experienced in dealing with hurricanes because of the constant threat of them and our only dealings with them are when we're overseas.
"But we can help with the general running of operations, the control of situations and how to deal with unexpected problems in a methodical way. We also have a lot more specialist equipment."
RBR Commanding Officer Lieutenant-Colonel David Curley said: "This is a golden opportunity for us to enhance our HADR capabilities. These UK soldiers are trained up and ready for deployment in the Caribbean.
"The end state will be both units will enhance their HADR knowledge and will continue to focus on unit development.
"We are on line for Bermuda first, but there may be a time when both our units are working hand in glove on HADR operations if the call comes and we are deployed anywhere in Caribbean after the approval process is completed."

Read More About