Racing for the 69th Argo Group Gold Cup is scheduled to begin tomorrow morning, May 7, at 1000 hours on Hamilton Harbour, just off the docks of the Royal Bermuda Yacht Club.
The first match on the schedule pits grizzled veteran Johnie Berntsson of Sweden, a two-time winner of the King Edward VII Gold Cup, against first-time participant Kelsey Durham, the Royal Bermuda Yacht Club representative.
Other matches in the first flight include Maxime Mesnil of France [sailing his first Argo Group Gold Cup] racing Chris Poole of the U.S., Ettore Botticini [the reigning Youth Match Racing World Champion] of Italy racing Eric Monnin [the World No. 1-ranked match racer] of Switzerland and Australian Torvar Mirsky [the reigning Open match racing world champion], against Lucy Macgregor [the reigning Women's match racing world champion] of the U.K.
Pauline Courtois [Women's No. 1-ranked skipper] of France makes her Argo Group Gold Cup debut in the third flight of matches when she takes on Nicklas Dackhammar of Sweden in Match 3. Harry Price of Australia, another first-time entrant, makes his debut one match later, against Mirsky.
Argo Group Gold Cup Schedule of Events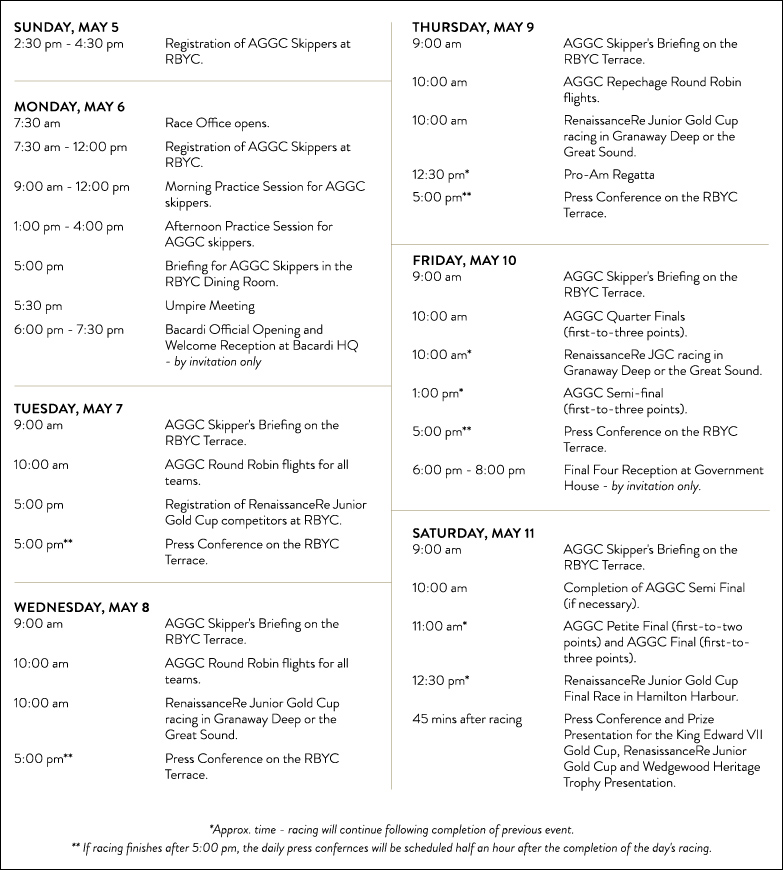 This is the second year that the Argo Group Gold Cup is being held in May. The conditions last year were idyllic, with winds of 6 to 15 knots, but tomorrow's forecast looks to be more blusterous.
The Bermuda Weather Service is forecasting northwesterly winds of 15 to 20 knots for Tuesday, conditions similar to what the crews practiced in today. The BWS is forecasting 12 to 18 knots from the northeast on Wednesday and 10 to 15 knots from the north on Thursday.
Eyes on the Prize
Besides winning the coveted King Edward VII Gold Cup trophy, the oldest trophy awarded in match racing second to only the America's Cup, the Argo Group Gold Cup will also award $100,000 in prize money to the top eight finishers. The winner will receive $30,000, second place wins $15,000, third place $12,000, and fourth place $11,000. Crews finishing fifth through eighth will receive $8,000 each.
Championship Pedigree
In what is believed to be a first at a Grade 1 match racing regatta the Argo Group Gold Cup includes the three reigning match racing world champions – Mirsky is the Open champion, Macgregor is the three-time Women's champion and Italian Ettore Botticini is the Youth champion.
All three competed in last year's Argo Gold Cup but Botticini had not won the youth title. He achieved that feat last July.
Besides Mirsky, Macgregor and Botticini the Argo Group Gold Cup also includes six-time Open world champion Ian Williams of the U.K. and Price, the 2017 Youth world champion.
Skipper Harry Price of Australia and his Down Under Racing team practice downwind on Hamilton Harbour ahead of the first day of the Argo Group Gold Cup [©Argo Group Gold Cup photo]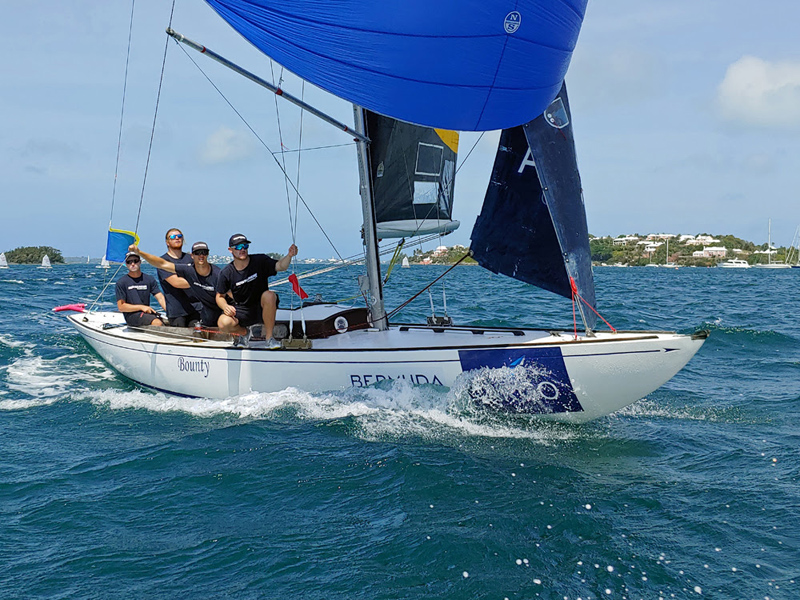 The field also includes three past winners of the King Edward VII Gold Cup trophy: Berntsson of Sweden in 2014 and 2008, Mirsky in 2011 and Williams in 2006.
Preeminent Women
This year's Argo Group Gold Cup features two of the top women's skippers in Macgregor and Courtois. Courtois is a two-time women's match racing champion in her native France [2017, '18] and also the two-time champion of the Women's International Match Racing Series [2017, '18]. Macgregor beat Courtois to win the 2018 Women's Worlds in Russia and regards Courtois as a fierce competitor.
"Pauline and her team have been one of our toughest opponents at women's events over the past couple of years," said Macgregor. "They seem to be very natural sailors and I'm sure will be tough to beat on the circuit again this year."
Match racing might be the best discipline in the sport of sailing where men and women can compete on equal terms. The racecourses are short and quick and if the wind is light to moderate the strength advantage of men's crews is neutralized. That proved true last year when Macgregor advanced to the semifinals before placing fourth overall. Never before had a women's crew made it to the semifinal round of the Argo Group Gold Cup.
Monnin, the World No. 1-ranked Open match racing skipper, trained with Macgregor in her run up to the 2012 Olympics and has raced against the likes of Sally Barkow [who'll crew with Macgregor this week in Bermuda] and France's Claire Leroy, a past two-time women's world champion [2007, '08]. He sees no reason women's crews shouldn't be included in Open match race regattas.
Pauline Courtois [at helm] of France is racing the Argo Group Gold Cup for the first time as the Women's World No. 1-ranked match race skipper [©Argo Group Gold Cup photo]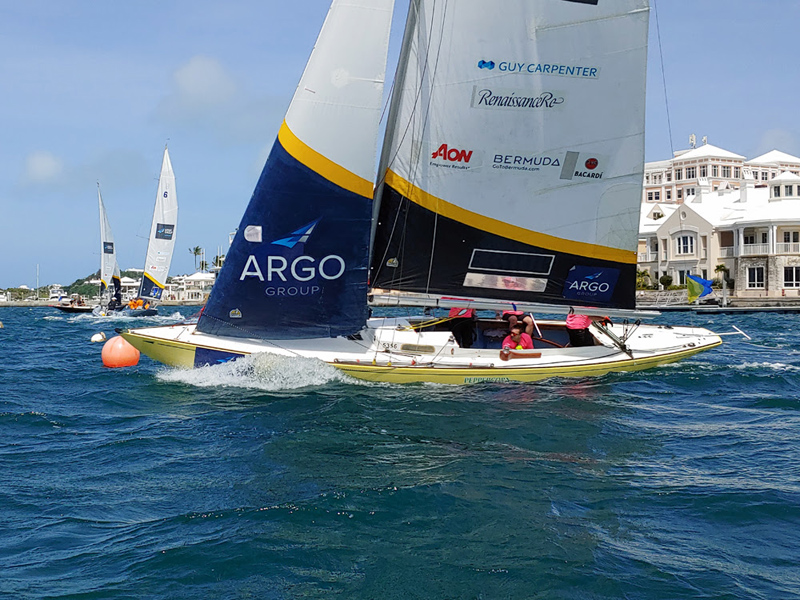 "To be clear, a women's team is as difficult to beat as a men's team," said Monnin. "I think match racing should always have women and mixed teams. To allow a flexible crew number inside the weight limit is a key to open match racing for women."
Macgregor is sailing with an all-women's crew while Courtois has two men and one woman in her crew. Poole, the world No. 15-ranked skipper, is also sailing with two men and one woman. The first crewmember he signed up was Bermudian Emily Nagel, who sailed the past Volvo Ocean Race with Team AkzoNobel.
"Emily and I became friends on Facebook and when I saw her background, I asked her if she would sail with me," said Poole. "I totally support women in crews. Emily's an incredibly talented sailor who's at the top of the sport. She's very strong and her skills suit match racing very well. It'll be her first Gold Cup and I'm happy to have her. She's going to kill it."
The crew-on-crew racing, more similar to a wrestling match where tactics, strategy and escapes are rewarded, will be held on Hamilton Harbour, directly in front of the Royal Bermuda Yacht Club docks where the exciting pre-start circling action is often played out within feet of the docks.
The Argo Group Gold Cup is sponsored for the 10th year by Argo Group International Holdings, Ltd., an international underwriter of specialty insurance and reinsurance products in the property and casualty market. The Bermuda Tourism Authority is the Host Sponsor.
2019 Argo Group Gold Cup Entrant List
Johnie Berntsson [48, Stennungsund, Sweden] – World No. 24, 10th Argo Group Gold Cup [champion 2008, '14]. Crew: Anders Dahlsjo, Erik Malmberg, Carl-Johan Uckelstan,
Ettore Botticini [23, Porto Santo Stefano, Italy] – World No. 4, second Argo Group Gold Cup, reigning Youth match racing world champion. Crew: Simone Busonero, Luca Camilli Meletani, Andrea Fornaro, Lorenzo Gennari
Pauline Courtois [30, Brest, France] – Women's World No. 1, first Argo Group Gold Cup. Crew: Cédric Chateau, Nathalie Corson, Eric le Joliff
Nicklas Dackhammar [SWE] – World No. 7, third Argo Group Gold Cup. Crew: Olof Lundgren, Eric Malmberg, Jakob Wilson
Kelsey Durham [25, Smiths, Bermuda] – 2019 Bermuda National Match Racing champion, first Argo Group Gold Cup. Crew: Stevie Dickinson, Campbell Duffy, Heath Foggo
Lucy Macgregor [32, Poole, England, U.K.] – Women's World No. 6, third Argo Group Gold Cup, reigning three-time Women's match racing world champion. Crew: Sally Barkow, Bethan Carden, Francesca Clapach, Kate Macgregor
Maxime Mesnil [30, Le Havre, France] – World No. 5, first Argo Group Gold Cup. Crew: Yann Chateau, Hugo Feydit, Yves-Marie Pilon
Torvar Mirsky [41, Sydney, Australia] – World No. 10, fifth Argo Group Gold Cup [champion 2011], reigning Open match racing world champion. Crew: Ian Coleman, Rob Scrivenor, Cameron Seagreen
Eric Monnin [43, Immensee, Switzerland] – World No. 1, 12th Argo Group Gold Cup. Crew: Simon Brügger, Lukas Gerig, Marc Monnin, Alain Stettler
Chris Poole [30, Cold Spring Harbor, N.Y., USA] – World No. 13, fifth Argo Group Gold Cup. Crew: Emily Nagel, Patrick Vos, Josh Wijohn
Harry Price [23, Sydney, Australia] – World No. 3, first Argo Group Gold Cup, 2017 Youth match racing world champion. Crew: George Anyon, Taylor Balogh, Connor Mashlan
Ian Williams [42, Lymington, England, U.K.] – World No. 2, 11th Argo Group Gold Cup [champion 2006], six-time Open match racing world champion. Crew: Gerry Mitchell, Tom Powrie, Richard Sydenham
[All World Sailing Match Racing rankings as of Apr. 10, 2019]

Read More About