Six high-achieving undergraduate students have started working with the Cabinet Office as part of the Department of Workforce Development's Enhanced Summer Employment Programme.
"The programme was announced in the 2018 Throne Speech, along with two other programmes to develop the talent of Bermudian youth. Students interested in social and public policy, strategy, business and management science or law were encouraged to apply for the internship positions on the Bermuda Job Board website and submit a resume, transcripts, and a cover letter," a Government spokesperson said.
Interns: Miss Halle Teart, Miss Ailey McLeod, Mr. Ryley Tannock, Miss Kezia Battersbee, Mr. Stephen Symons and Mr. Khari Place.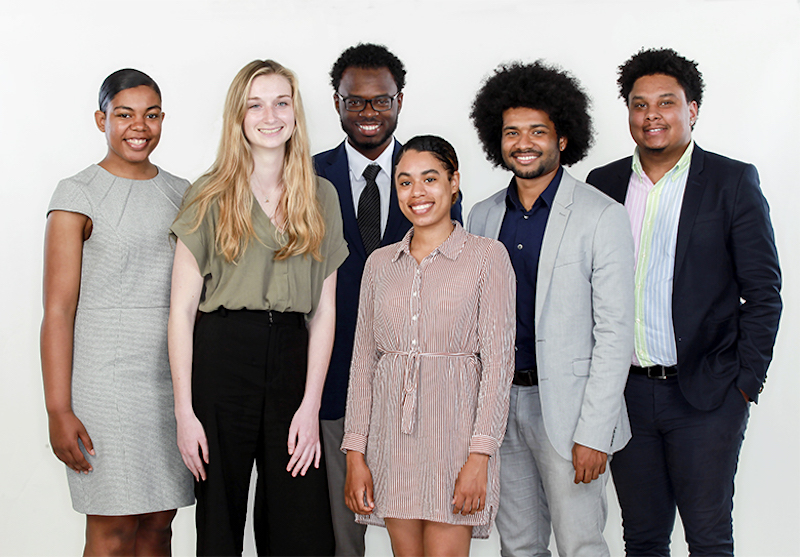 The successful students are:
Miss Ailey McLeod: a graduate from University College Utrecht who majored in Anthropology and Political Science and minored in History;
Mr. Stephen Symons: a senior from Point Park University majoring in Business Management and Political Science;
Mr. Ryley Tannock: a rising senior attending St Mary's University and studying Criminology and Psychology;
Miss Kezia Battersbee: a fourth-year student attending Acadia University, majoring in Political Science and minoring in Sociology;
Miss Halle Teart: a rising sophomore majoring in Sociology and Africana Studies and minoring in Social Policy and Entrepreneurship and Management at Johns Hopkins University; and
Mr. Khari Place: a graduate from Oakwood University who studied Applied Math and plans to complete a Master's in the future.
Premier David Burt said, "The Enhanced Summer Employment Programme prepares Bermuda's youth for the workplace, giving them applicable experience in public service as well as exposure to great career opportunities for those interested in the inner workings of government and making real changes in Bermuda. I look forward to working with them and benefitting from their policy work and research."
"There seems to be a lot of emphasis on engaging with the youth in Bermuda," said Ailey McLeod, Cabinet Office Summer Intern. "There's a desire for insight and opinions that come from young people of Bermuda and that's really exciting."
Read More About